Excellence Honored at Valdosta State University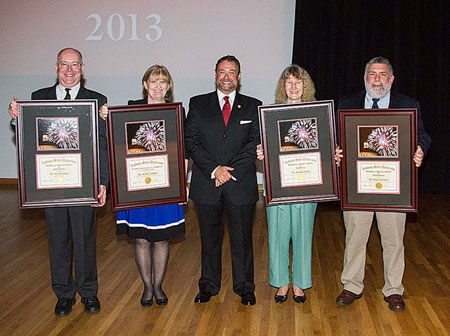 Faculty and Staff Excellence Award winners stand with VSU President William McKinney. Pictured left to right: Dr. Jay Rickman, Kathy Sundin, Dr. William McKinney, Dr. Martha Leake and Dr. Mark Groszos. Not pictured: Dr. James Nienow
VALDOSTA- The Valdosta State University community recognized four faculty members and one staff member for their exemplary professional contributions during the 2013 Fall Convocation, Monday, Aug. 5.
Faculty honorees were Dr. Mark Groszos, associate professor of geosciences, with the Excellence in Teaching Award; Dr. James "Jim" Nienow, professor of biology, with the Excellence in Professional Activity Award; Dr. Martha Leake, professor of planetary science, with the Excellence in Service Award; and Dr. Jay Rickman, professor or history, with the Excellence in Advising Award. Online Communications Coordinator Kathy Sundin was honored with the Excellence in Service for Classified Staff Award.
The Faculty and Staff Excellence Awards recipients were recommended by a committee of faculty and staff members who represent all colleges and divisions at VSU. The recipients were chosen from a field of candidates who have previously received top honors in their respective colleges and divisions.
Groszos was selected for demonstrating excellence in teaching in the classroom, studio, laboratory, online and in the field — whether in the United States or abroad. For the past 12 years, Groszos has led at least four field trips per semester for his classes to receive practical experience in geology.
"Most geologists agree that geology is a field-based science and the more time you spend in the field the more you learn about geology," said Groszos.
Since arriving at VSU in 1995, Nienow has had 19 published articles, five book chapters and one contract research project. His strong points include a willingness to adapt to changing conditions and opportunities as well as experience working with researchers and students across disciplines. Nienow currently serves as the president of the Georgia Academy of Science, serves as a scientist and mentor for NASA's Spaceward Bound and is currently studying the effects of the BP oil spill in the Gulf of Mexico.
When it comes to service, Leake is said to always excel. She has served on the faculty senate for six years and has more than 10 years of service on the student financial aid appeals committee. She has also served as part of the university's promotion and tenure committee. Leake is a part of the Valdosta community's Kiwanis Club and the American Association of University Women.
This year's recipient of the Excellence in Advising Award, Rickman is the first faculty member to receive two faculty excellence awards. In 2006, he was the recipient of the Excellence in Teaching Award. His advising style is said to demonstrate that effective teaching and effective teaching are closely aligned.
For years, Sundin has developed and facilitated in-house training for faculty and staff as well as application support for important services utilized on a daily basis. She has served as a liaison between the departments of Information Technology and other departments on campus. Sundin is said to emerge as a leader in all situations while demonstrating professionalism, grace and openness.
For more information on faculty excellence awards, visit http://www.valdosta.edu/academics/academic-affairs/vp-office/faculty-excellence-awards-winners.php . For more information on staff excellence awards, visit http://www.valdosta.edu/cosa/.
---
Valdosta State University's 2013-2019 Strategic Plan represents a renewal of energy and commitment to the foundational principles for comprehensive institutions.
Implementation of the plan's five goals, along with their accompanying objectives and strategies, supports VSU's institutional mission and the University System of Georgia's mission for comprehensive universities.
The story above demonstrates VSU's commitment to meeting the following goals:
Goal 1: Recruit, retain, and graduate a quality, diverse student population and prepare students for roles as leaders in a global society.
Goal 3: Promote student, employee, alumni, retiree, and community engagement in our mission.
Goal 4: Foster an environment of creativity and scholarship.
Goal 5: Develop and enhance Valdosta State's human and physical resources.
Visit http://www.valdosta.edu/administration/planning/strategic-plan.php to learn more.
Newsroom
Office of Communications Powell Hall West, Suite 1120
Mailing Address
1500 N. Patterson St.
Valdosta, GA 31698
General VSU Information
Office of Communications