July 12, 2013

Ruby Riesinger, VSU SBDC - rcriesin@valdosta.edu
VSU SBDC Partner Guardian Bank Named Financial Services Champion of the Year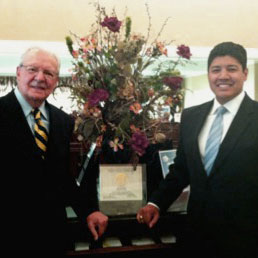 VALDOSTA – Valdosta State University's Small Business Development Center congratulates its partner and nominee, Guardian Bank, for recently being named Financial Services Champion of the Year by the U.S. Small Business Association during the announcements of the Georgia District Awards. Awards were presented to Eric Johnson, commercial banking officer of Guardian Bank, and Dr. Ron Zaccari, former Valdosta State University president and strategic planning/regional and community relations officer of Guardian Bank.
"Valdosta and South Georgia is extremely lucky to have these two outstanding small business champions at their service," said Ruby Riesinger, VSU SBDC area director. "Not only do they and Guardian Bank work with us in providing programs for the education and betterment of our area small business owners, but they also continue to look for ways to expand these integral services and the coverage area in which they offer it."
Guardian Bank has worked closely with the VSU SBDC to provide the Guardian Bank Business Plan Competition, where Guardian Bank sponsored more than $100,000 cash to multiple winners over the past five years. The bank has also partnered with the SBDC to create myriad successful training programs that are still on-going to date and serve the Valdosta, Brunswick and St. Simons communities.
"Guardian's past works and the dedication they continue to show in support of small business success is quite laudable," said Riesinger.
Johnson and Zaccari were recognized during a luncheon in Atlanta during Georgia Small Business Week, which was observed May 20-24. The SBA observed its 50th anniversary of National Small Business Week June 17-21.
The partnership of Guardian Bank and VSU SBDC is gearing up to host their second annual GrowSmart program this fall. This CEO level training course offers an intense focus on all areas of business disciplines essential for small business health and growth. For information on this and other courses at the VSU SBDC, please visit www.valdosta.edu/sbdc/classes.
For more information, contact Riesinger at 229-245-3738 or by email at rriesinger@georgiasbdc.org.
---
Valdosta State University's 2013-2019 Strategic Plan represents a renewal of energy and commitment to the foundational principles for comprehensive institutions.
Implementation of the plan's five goals, along with their accompanying objectives and strategies, supports VSU's institutional mission and the University System of Georgia's mission for comprehensive universities.
The story above demonstrates VSU's commitment to meeting the following goals:
Goal 3: Promote student, employee, alumni, retiree, and community engagement in our mission.
Goal 4: Foster an environment of creativity and scholarship.
Visit http://www.valdosta.edu/administration/planning/strategic-plan.php to learn more.