University Attorney Honored by Georgia Association of Black Women Attorneys and State Bar of Georgia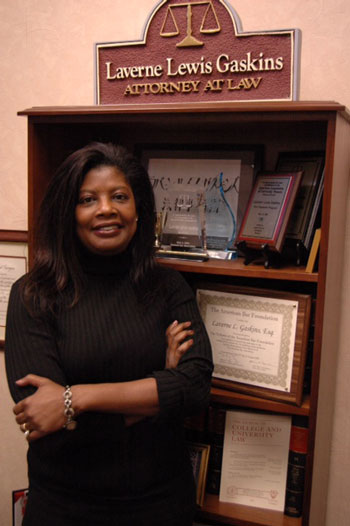 University Attorney Laverne Gaskins
VALDOSTA – Valdosta State University congratulates University Attorney Laverne Gaskins for receiving the Georgia Association of Black Women Attorneys (GABWA) 2013 Zenith Award for Political Action, as well as her recent appointment to the State Bar of Georgia's board of governors.
"I am humbled and honored to receive such a distinguished award," said Gaskins. "It was a pleasant surprise and I thank the member of Georgia Association of Black Women Attorneys for considering me for this honor. With regards to the board of governors, I always welcome the opportunity to serve the interest of Georgia lawyers and the community.  It is also gratifying to serve the bar in a leadership capacity while employed at Valdosta State."
The Zenith Award for Political Action honors those who have made a significant impact at the local, state or national level by advancing the political interests of groups that have historically been underserved. 
"Attorney Gaskins is a dynamic community leader, and GABWA's recognition of her efforts is unequivocally merited," said Jacqueline Bunn, GABWA president.  "Her commitment to taking an active role in the political process and making a difference towards the betterment of all Georgians is unparalleled. GABWA is privileged to shine a spotlight on her most notable accomplishments."
The Board of Governors is the 160-member policymaking authority of the state bar, with representation from each of Georgia's judicial circuits. The board holds regular meetings at least four times per year. As a member of the Board of Governors, Gaskins will serve in an at-large capacity.
She was admitted to the State Bar of Georgia in 1993. She has served on the board of governors previously and is a former Georgia special assistant attorney general.
She earned her juris doctor degree from Florida State University College of Law, where she currently serves on the alumni board. She also holds a Bachelor of Arts in Psychology and a Master of Education in Guidance and Counseling from VSU. Gaskins is a current member of the editorial board of The Journal of College and University Law, a former associate editor of the National Bar Association Magazine and a current member of the board of advisors for the publication, Campus Legal Advisor.
---
Valdosta State University's 2013-2019 Strategic Plan represents a renewal of energy and commitment to the foundational principles for comprehensive institutions.
Implementation of the plan's five goals, along with their accompanying objectives and strategies, supports VSU's institutional mission and the University System of Georgia's mission for comprehensive universities.
The story above demonstrates VSU's commitment to meeting the following goal:
Goal 5: Develop and enhance Valdosta State's human and physical resources.
Visit http://www.valdosta.edu/administration/planning/strategic-plan.php to learn more.
Newsroom
Office of Communications Powell Hall West, Suite 1120
Mailing Address
1500 N. Patterson St.
Valdosta, GA 31698
General VSU Information
Office of Communications