The Happening 2013 -- August 29, 2013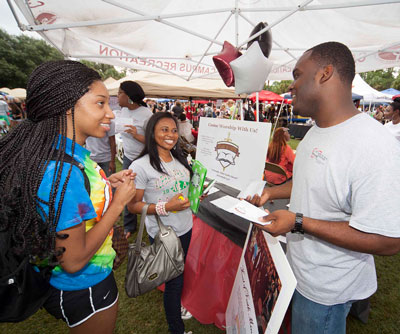 The Happening
Update: The Happening has been postponed to Thursday, Aug. 29 from 1 to 4 p.m. on the front lawn.
VALDOSTA – For one afternoon each fall, Valdosta State University's front lawn becomes a forum where more than 200 local businesses and organizations meet face to face with VSU students to offer useful knowledge about the university and the community surrounding them.
The Happening 2013, scheduled for 1-4 p.m. Thursday, Aug. 29 promises to be the event of the semester with more tents, games and freebies than last year's affair, which was the largest in its 21-year history.
Participation in the thrilling, yet informative, event is free for both exhibitors and students. No selling or fundraising is allowed at the event, but businesses and community organizations often provide free food samples, prizes and promotional giveaways. VSU departments and student clubs will also pass out information and engage students in balloon tosses, quiz games, miniature golf and many other activities.
Local business and community organizations may register with Student Life through 9 a.m. Monday, Aug. 12. Additional information and registration forms for businesses, community groups and campus organizations are available at the Happening 2013 webpage. Call the Office of Student Life at 333-5674 for more information.
Newsroom
Office of Communications Powell Hall West, Suite 1120
Mailing Address
1500 N. Patterson St.
Valdosta, GA 31698
General VSU Information
Office of Communications