Nonprofit Retail Center Honors VSU's Former First Lady Joan Bailey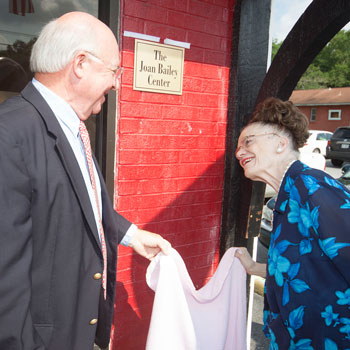 Mayor John Gayle and VSU former first lady Joan Bailey unveil the name of The Community Depot's first nonprofit retail center named in Bailey's honor. 
VALDOSTA – Several gathered as The Community Depot, Inc. dedicated its first nonprofit retail center to Valdosta State University former first lady Joan Bailey Friday, June 14.
"This is a complete surprise, but a distinct honor," said Bailey. "This center serves not only the needs of Valdostans, but it also supports the great need for all in surrounding areas who are experiencing difficult times in their lives."
Bailey is the wife of the late Dr. Hugh C. Bailey, former Valdosta State University president. She has been in Valdosta since her husband became president of then Valdosta State College in 1978 and has, since served various area community agencies in deed and monetarily.
The Joan Bailey Center, located at 1602 N. Ashley St next to El Cazador restaurant, is a donor-driven retail shop that resells lightly used clothes, household items, recreational items, furniture and business and building supplies. Net proceeds benefit the American Red Cross South Georgia Chapter, Easter Seals Disability Services and Humane Society of Valdosta-Lowndes County.  Donors and store customers can specify which agency they wish to donate to.
"This is the first of what we hope to grow into a chain of retail thrift centers," said Ralph Jackson, executive director of The Community Depot, Inc. "We dedicated the store to Mrs. Bailey because of her commitment to this community. She has done so much for the community, worked with almost every area nonprofit and is the driving force behind The Community Depot."
During the dedication Jackson also recognized diamond sponsors Judge Wayne Ellerbee, El Cazador restaurant and Attorney David Sandbach, Jr. He added that the center is in need of volunteers and sponsorships. 
The center officially opens for business Saturday, June 15. As part of its grand opening The Community Depot will host several events throughout July, including a community yard sale Saturday, July13; Midnight Madness Friday, July 19; and a live auction Saturday, July 27.
For more information or for volunteer opportunities, contact Ralph Jackson at (229) 671-1755. 
Newsroom
Office of Communications Powell Hall West, Suite 1120
Mailing Address
1500 N. Patterson St.
Valdosta, GA 31698
General VSU Information
Office of Communications