IT and Plant Operations Face Off in Staff Basketball Game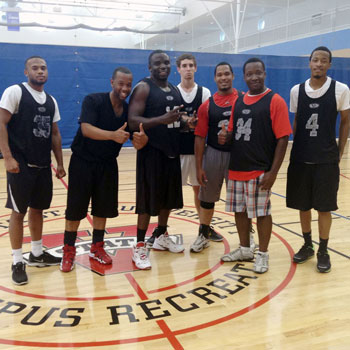 The Division of Information Technology held its first basketball game in May. Members of IT will compete with members of Plant Operations Friday, June 28 in a staff basketball game. 
VALDOSTA – In an effort to foster positive relationships and teamwork, members of Valdosta State University's Division of Information Technology will face off with members of VSU Plant Operations during a staff basketball game at the VSU Recreation Center Friday, June 28 at 4:30 p.m.
The game will include supervisors and student technicians from IT as well as staff members from plant operations.
"Members of IT held its first official basketball game in May," said Sterlin Sanders, desktop support coordinator and one of the organizers for the game. "We thought that it would be a creative team building exercise – working with each other outside of our normal workspace. Word eventually spread about the game and then members of plant operations challenged us to a game."
Organizers hope to make the staff basketball game a monthly or seasonal event. The event is free and open to the campus.
Newsroom
Office of Communications Powell Hall West, Suite 1120
Mailing Address
1500 N. Patterson St.
Valdosta, GA 31698
General VSU Information
Office of Communications