June 12, 2013
13-184
Jessica Pope
Communications and Media Relations Coordinator
Anthony Potter Says VSU's MFT Program Is Worth Every Sacrifice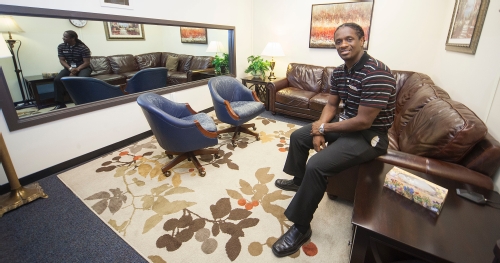 Pictured is Anthony Potter in one of the therapy rooms at FamilyWorks.
VALDOSTA — Born and raised in Boston, Mass., Anthony Potter, 33, grew up poor in terms of material wealth but rich in love, knowledge, and determination. He learned at an early age that success would not come easy but that hard work combined with perseverance and a positive attitude would help him reach his goals.
Potter will realize one of these goals in July 2014 when he graduates from Valdosta State University with a Master of Science in marriage and family therapy. He hopes to use his skills to help at-risk, inner city kids, particularly in the Atlanta area, break any negative cycles — poverty, violence, intolerance, abuse, and so on — and realize their potential to live a positive, productive life.  
Before learning about and joining the ranks of VSU's best, brightest, and definitely most determined, Potter intended to pursue higher education at Boston University. However, he entered Morehouse College in Atlanta as a freshman in August 1998; a high school teacher had asked him if he had ever heard of the all-male, historically black college in Georgia, and he decided to schedule a visit.
"I fell in love with Morehouse College," he said. "The students had a real passion for education and changing the world. They were doing things and helping others. They had ideals. They were how I envisioned myself being, which was very different from the kids I grew up around. I knew that I needed to surround myself with people who inspired me and made me want to work harder and be better."
It was at Morehouse College that Potter discovered his purpose and VSU.
At the age of 18, Potter and three friends moved to Atlanta. One of his first lessons was to memorize a quote by Benjamin E. Mays, a minister, educator, scholar, social activist, and president of Morehouse College from 1940 to 1967 — "Every man and woman is born into the world to do something unique and something distinctive, and if he or she does not do it, it will never be done."
"This is one of the first quotes that we had to remember as a freshman at Morehouse College …," he said, "and it has been one that has stayed with me until present day."
"I believe," he added, "that my current education and training in marriage and family therapy will equip me with the necessary skills to be better prepared to take on the task of providing professional services within the mental health field … especially within the … (black) community."
Potter left Morehouse College after three years because of financial issues. He just did not have enough money to complete his final year of study.
"I left college in 2001," he explained, "and began working at a group home for at-risk youth in Atlanta — where my future as a mental health professional was clarified. I was a resident advisor, and my duties were to monitor and log the activities of the youth, prepare meals, transport children to medical and other appointments, and attend weekly treatment team meetings." For two-plus years, he worked primarily with black children between the ages of 6 and 17.
"I began noticing that the language and conceptual thoughts of how the treatment teams referred and dealt with the residents was pathological and stemming from a deficit vantage," he said. "During one treatment team meeting, I offered an alternate viewpoint of the problem … my suggestion was met with offensive opposition. I was told that I should let the professionals, who have the education and understand the complexity of the cases, do their job — and for myself to do my job. It was at that moment that I realized the lack of perspective some mental health professionals possessed and how the voices of many marginalized people would never be heard as a result."
Potter knew it would not be easy, but he decided to do whatever it took to save the funds necessary to return to Morehouse College and complete his education. Nine years and several different full-time and part-time jobs later — at such locations as H & R Block and Emory University Hospital — he returned to class.
"It required a lot of discipline," he said, "and a lot of education. I had to teach myself how to save while living in a world that likes to spend, spend, spend."
A full-time student once again, Potter maintained a full-time job as a cook at Emory University Hospital, a part-time job, and a work-study job, all while completing his undergraduate education. He said it was not easy, but he graduated in December 2011 with a Bachelor of Art in psychology and a Bachelor of Art in French. He then continued to work and save as much money as possible to ensure he could afford to attend the Marriage and Family Therapy Program at VSU, which he had learned about during a "surprise" visit by Dr. Kate Warner, a licensed marriage and family therapist, professor, and program director.
"Dr. Warner walked into Morehouse College …," he said. "She was doing outreach to promote the Marriage and Family Therapy Program at VSU. I listened and thought it sounded like a good program. I talked to her and read more about the program, and I planned a visit. After I saw the program in action, I knew I wanted to be a part of it. It is the No. 1 program of its kind by far. The other programs I researched and even visited, like that at Columbia University and Syracuse University, just did not begin to compare."
Potter arrived at VSU in August 2012. He was awarded a graduate assistantship to help fund his education.
In May 2013, the Georgia Association of Marriage and Family Therapy presented Potter one of two Christus Powell Minority Fellowship awards. He said that the money could not have come at a better time because he had just emptied his savings account and was worried about having to leave school due to financial issues once again.
"The feeling of astonishment and relief overwhelmed me when I received news that I had been awarded the scholarship because I did not know how I was going to be able to afford summer semester," he said. He recently accepted a job on weekends to start saving money for the upcoming fall semester, and he often walks several miles to school to save gas money. He would work more, but his class schedule, work as a student therapist and clinic manager at the VSU-based FamilyWorks, and service to the community do not allow him much free time.
"You do what you have to do to get where you want to go," he said. "This program is everything I thought it would be and more. It has been worth every sacrifice."
"Anthony has been a godsend," said Dr. Martha Laughlin, a licensed marriage and family therapist, professor, and director of clinical training for VSU's Marriage and Family Therapy Program. "With his background experience, his maturity, and his attention to detail, the Marriage and Family Therapy Program faculty have turned the clinic over to him more completely than we have ever done before. We made him clinic manager, and he has done a superb job. In addition to being a topnotch student, Anthony is dedicated to the clinic, and he has taken care of it, from moving furniture to handling the money to keeping more than 20 therapists' schedules and clients straight. Anthony is usually here in the morning before anyone else, and I often see him coming through when he's supposed to be home relaxing. He is a marvel of organization, responsibility, and hard work."
Potter plans to seek licensure in the state of Georgia as an associate marriage and family therapist after graduation.
"It is my expectation to find employment in the mental health field in Atlanta where I can obtain my post-master's hours in order to obtain full licensure," he added. "I am committed to search for opportunities to work with underserved populations, as well as with disenfranchised and marginalized individuals, couples, and families. My ultimate goal is to have obtained enough experience and knowledge to be able to practice privately and open a practice that provides affordable services to the aforementioned groups."  
VSU's Marriage and Family Therapy Program is committed to recruiting, training, and graduating students from diverse backgrounds. The program, which provides students both the academic and clinical training required to practice relationally informed clinical work in a variety of mental health settings, leads to a Master of Science in the field.
Call (229) 219-1281 or visit www.valdosta.edu/mft/ to learn more about VSU's Marriage and Family Therapy Program.
Anthony Potter can be contacted at alpotter@valdosta.edu.
About FamilyWorks
FamilyWorks is the Valdosta State University-based clinic operated by the Marriage and Family Therapy Program. Seven days a week, clinic staff members help clients of all ages, from children to senior citizens, find solutions to whatever problems they may be experiencing.
According to information provided by the Marriage and Family Therapy Program, services are offered "to all people who seek them, regardless of age, gender, race, political or religious affiliation, sexual orientation, marital status, education, economic status, disability, or ethnic background."
Although Marriage and Family Therapy faculty members serve in a supervisory role and see a few clients, FamilyWorks is a student-run clinic. First-year graduate students handle the intake process, including scheduling the client's first appointment, gathering relevant background and contact information, documenting what prompted the client to seek therapy, and matching the client with a therapist. Advanced standing graduate students serve as the therapists.
Basically a large group practice, clients can be seen by individual therapists, a pair of therapists, or a faculty- or student-run consultation team. FamilyWorks deals with many different kinds of problems, from anger management and anxiety to divorce and depression to sexual issues and substance abuse to domestic violence, grief and loss, child behavior issues, and more. The therapist's goal is to help the client make the changes he or she wants to make, taking into account every aspect of the client's life and focusing on the client's natural resources.
FamilyWorks is open seven days a week, year-round. The majority of services are provided between the hours of 9 a.m. and 10 p.m. However, if therapists wish to schedule sessions outside of those hours, based on the needs of their clients, they can do so.
Because FamilyWorks is a not-for-profit clinic seeking to provide low-cost therapy services to everyone and train advanced level graduate students, fees for sessions are based on a sliding scale and can be totally free of charge, depending on family size and income. However, no one will be denied services based on their inability to pay.
Clients come from as far away as Nashville, Cairo, and Jennings, Fla., for therapy services. The student therapists also serve the community outside FamilyWorks in such organizations as Hospice of South Georgia, the Lowndes County Partnership for Health, the Migrant Farmworkers Clinic, the Georgia Department of Juvenile Justice, and others.
FamilyWorks is located at 903 N. Patterson St. in the one-story annex connected to the Continuing Education building.
Call (229) 219-1281 to schedule an appointment with a therapist. Services are confidential to the fullest extent of the law, and all clinic staff members adhere to the highest ethical and professional standards in their relationship with clients.
General VSU Information
Office of Communications
Campus Address
Office of Communications Powell Hall West, Suite 1120
Mailing Address
1500 N. Patterson St.
Valdosta, GA 31698