VSU Recognizes Greek Life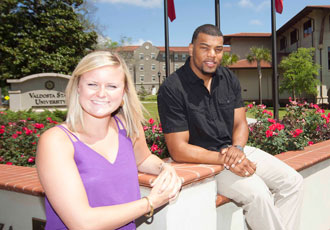 Emma Carey and Jeremiah Wiggins were selected as Order of Omega Man and Woman of the Year, which recognizes the quality and true essences of leaders within the Greek community.
VALDOSTA – Valdosta State University recognized members of the Greek community during the annual Greek Assembly on April 25.
The event provides an opportunity for the university to publically recognize the hard work and dedication of Valdosta State's 23 active Greek sororities and fraternities. The chapters are divided among three main governing boards: National Pan-Hellenic Council (NPHC), Interfraternity Council (IFC) and College Panhellenic Council (CPC).  
"So often we only hear the negative sides of student activities, it is so necessary to affirm them for the good that they do and continue to motivate them to do greater things," said Erin Sylvester, assistant director for Greek Life. "By bringing them all together it helps to unify them as a community in encouraging one another and supporting their shared efforts."
Last year, Valdosta State's Greek chapters volunteered 23,787 hours of community service within the local region and raised $121,981.35 in philanthropic efforts.
"Greek life is more than just secrets and socials…our Greek community has donated many hours of hard work to those in need, they have sponsored educational events for the entire VSU student population," said Sylvester, who joined VSU in 2012. "They donate large sums for charitable causes and create lifelong bonds that last long past their four years of college.  I am proud of all that they have done and can't wait to see all the things they will continue to do."
One of the highest awards presented during the Greek Assembly is the Order of Omega Man and Woman of the Year, which recognizes the quality and true essences of leaders within the Greek community. 
Jeremiah Wiggins, of Kappa Alpha Psi, was selected as the Order of Omega Man of the Year for his exemplary dedication to his chapter.
Wiggins' situation is unique, where other Greek members share the assignments and responsibilities of maintaining an active organizations, he was the only member of Kappa Alpha Psi this academic year.
Wiggins has made it his duty to see the survival of VSU's Kappa Alpha Psi chapter.  As the only member he has meet all the requirements to maintain active status, while carrying a full academic course load and working fulltime in the community.
Last year, while serving as vice president of Kappa Alpha Psi some new rules were established for chapter members, including mandated GPA requirements and an increase in community service hours.
Giving up on Kappa Alpha Psi was not option and Wiggins saw the decline in membership as an opportunity to improve the chapter.
"I feel like this is a blessing in disguise," said the senior psychology major. "We wanted to make the chapter stronger."
Wiggins, who also serves as a Student Government Association senator and former president of the National Pan-Hellenic Council, stresses that being in a fraternity is not about what you gain personally but what you give back to others.
"A common thing I hear is that someone wants to be in a fraternity to be 'a better man' but I let them know that there has to be a willingness to help others," said Wiggins. "It is like a journey…you are really putting others over what you want."   
Emma Carey, of Chi Omega, was selected as the Order of Omega Woman of the Year for her continued involvement and focus on increasing scholastic achievements within Chi Omega.
Under Carey's leadership she developed a scholarship plan that helped raise the overall GPA average of the Chi Omega chapter.  
Serving as vice president, director of scholarship and new member educator of Chi Omega has helped teach Carey valuable lifelong lessons.
"Being in Chi Omega has taught me the value of patience and selflessness. Working with over 100 different women has been such an eye-opening experience, and one that I will stay with me forever," said Carey, who graduated with a bachelor's degree in speech communications on May 4. "Every one of my sorority sisters brings a different attribute to the organization, which makes everything that much more enjoyable. Being a leader in this organization has given me the chance to get to know each member on a different level." 
Carey said that being active in a sorority has helped her balance every aspect of college life, and to become a better student.
"I definitely came to VSU wanting to be part of something," said Carey, who parents were active Greek members in college. "I knew about the social reasons for joining but I had no idea about the leadership, having good grades and being involved on campus."
In addition to her involvement in Chi Omega, Carey was a member of Student Society for Communications Scholar, Golden Key Club, Order of Omega Honors Society, Student Government Association, Lambda Pi Eta Honors Society and Alpha Chi Honors Society.
The following additional awards were presented:
Gamma Chi of the Year: Brittany Reeves
Order of Omega Honor Society recognized academic excellence in the Greek community. Members are juniors and seniors who represent the top three percent of Greek life at VSU. The fall 2012 inductees include:
Alexander Barrickman
Tullis Beasley
Shakeria Bonaparte
Shelby Castagna
Cliff Crummey
Cordie Darden
Natrice Davis
Kyler Dessau
Kelsey Durham
Atiya Elliot-Semper
Shannon Frislie
Alina Goldberg
Samantha Higginbotham
Stacie Linton
Ashlee Lynn
Ali MacDonald
Jamie Mauldin
Mariah McDaniel
Jessi Miller
Jennifer Nguyen
Michael Nuce
Anna-Leigh Powell
Ainsely Robinson
Timothy Rohan
Kate Rounds
Hannah Russell
Brittany Smith
Sally Smith
Regan Taylor
Kalli Thornton
Kendra Thornton
Steffany Weathers
National Order of Omega Scholarship: Christie Siciliano
Order of Omega Honorary Member: Rebecca Taylor
Greek Week Winners:
First Place: Chi Omega, Phi Beta Sigma and Kappa Sigma
Second Place: Alpha Delta Pi, Delta Sigma Theta, Pi Kappa Phi, and Kappa Alpha
Third Place: Kappa Delta, Alpha Kappa Alpha, and Sigma Chi
Intramural Winners:
Flag Football: Pi Kappa Phi and Kappa Delta
Futsal: Sigma Nu and Kappa Delta
Volleyball: Phi Sigma Kappa and Alpha Delta Pi
Basketball: The Order and Chi Omega
Softball: Delta Chi and Kappa Delta
Outstanding Greek Presidents of the Year
College Panhellenic Council: Elizabeth Melton of Chi Omega
Interfraternity Council: Blaine Hendon of Kappa Alpha Order
National Pan-Hellenic Council: Ebone Lawson of Delta Sigma Theta 
Outstanding Greek Achiever: Kyler Dessau of Delta Sigma Theta 
Advisor of the Year: Rebecca Taylor advisor for Phi Beta Sigma 
New Member of the Year:
College Panhellenic Council: Samantha Higginbotham of Alpha Sigma Alpha
Interfraternity Council: William Mast of  Phi Sigma Kappa
National Pan-Hellenic Council: William Jimmerson of Alpha Phi Alpha
Chapter GPA Awards:
Overall Highest GPA
College Panhellenic Council: Alpha Delta Pi
Interfraternity Council: Sigma Nu
National Pan-Hellenic Council: Alpha Kappa Alpha
Highest New Member GPA
College Panhellenic Council: Chi Omega
Interfraternity Council: Sigma Nu
National Pan-Hellenic Council: Alpha Kappa Alpha 
Most Improved GPA
College Panhellenic Council: Chi Omega
Interfraternity Council: Sigma Nu
National Pan-Hellenic Council: Phi Beta Sigma
Chapter Excellence Awards 
Excellence in Academics and Scholarship
College Panhellenic Council: Alpha Delta Pi
Interfraternity Council: Sigma Nu
National Pan-Hellenic Council: Delta Sigma Theta 
Excellence in Community Service and Philanthropic Activities
College Panhellenic Council: Chi Omega
Interfraternity Council: Sigma Nu
National Pan-Hellenic Council: Delta Sigma Theta
Excellence in Campus Involvement and Leadership
College Panhellenic Council: Chi Omega
Interfraternity Council: Sigma Nu
National Pan-Hellenic Council: Delta Sigma Theta 
Excellence in Chapter Development and Reporting
College Panhellenic Council: Alpha Sigma Alpha
Interfraternity Council: Phi Sigma Kappa
National Pan-Hellenic Council: Sigma Gamma Rho
Most Improved Chapter
College Panhellenic Council: Zeta Tau Alpha
Interfraternity Council: Sigma Chi
National Pan-Hellenic Council: Phi Beta Sigma
Chapters of Excellence and Merit 
Chapter of Merit:
Alpha Sigma Alpha
Sigma Nu
Sigma Gamma Rho
Chapter of Excellence
Alpha Delta Pi
Chi Omega
Delta Sigma Theta
Kappa Delta
Phi Mu
Zeta Tau Alpha
Chapter of the Year
College Panhellenic Council: Chi Omega
Interfraternity Council: Sigma Nu
National Pan-Hellenic Council: Delta Sigma Theta
To view photos from Greek Assembly go to VSU Flickr site:
http://www.flickr.com/photos/valdostastate/sets/72157633365262123/ 
Newsroom
Office of Communications Powell Hall West, Suite 1120
Mailing Address
1500 N. Patterson St.
Valdosta, GA 31698
General VSU Information
Office of Communications