VSU Announces New Center for Excellence in STEM Education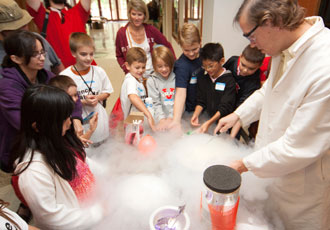 Hundreds of children benefit from VSU's Science Saturdays, which are held six times throughout the year. Science Saturdays is just one of many VSU's STEM initiatives that engages children in learning more about science.
VALDOSTA—Valdosta State University will receive $2.5 million from the FY2014 Georgia Assembly budget to create the Center for Excellence in STEM Education. The center will provide expanded training to Valdosta State students and regional teachers in the STEM (science, technology, engineering, and math) areas. 
The center, which will be housed in Martin Hall, will serve as the central point for integrating and coordinating Valdosta State's STEM activities, as well as creating additional partnerships. Consolidating STEM resources into the new center will enable increased faculty collaboration across disciplines and with our P-12 regional school systems. 
"The College of Arts and Sciences established a STEM strategic plan about four years ago, and our primary effort has been to recruit and retain STEM majors," said Dr. Connie Richards, dean of the College of Arts and Science. "A number of our STEM faculty are part of a university strategic focus initiative and have been working together to discuss and explore teaching methods that work best in STEM courses." 
Richards said advancements have been made in utilizing a math and chemistry placement process to ensure students are registered for courses at the appropriate level. 
Helping students secure appropriate workforce experience is also a priority within Valdosta State's STEM initiative. Members of the biology faculty are working with area businesses and nonprofit agencies to explore how biology majors might be involved in service learning and civic engagement projects focused on STEM initiatives. 
For many years, the Dewar College of Education and the College of Arts and Sciences have worked collaboratively to increase content knowledge and teaching effectiveness in the areas of math and science. 
Generating more math and science teachers is the focus of a $1.2 million National Science Foundation grant secured by Valdosta State in 2012. The Noyce Scholars Science Teacher Preparation and Retention project plans to double the number of science teachers VSU graduates each year. 
"This is a very exciting project in which we have every hope that we will produce highly qualified and exciting science teachers. Our nation lags behind international peers in terms of science achievement," said Dr. Brian Gerber, acting dean of the Dewar College of Education. "Through this grant, Valdosta State University has been recognized as a place where innovative science teacher preparation occurs through the engagement of faculty across campus and teachers within our local schools. Partnerships such as these are going to be vital for the existence of higher education and to fulfill the promise of producing the very best science teachers in the world. 
A major focus of Valdosta State's STEM education effort also includes working with K-12 STEM teachers throughout South Georgia. 
This summer the Dewar College of Education will host a two-week workshop for elementary teachers to help improve math and science content knowledge and teaching skills. This is the first of several workshops funded through a $1.1 million Math Science Partnership grant from the Georgia Department of Education and will continue through 2014. 
"These STEM teacher workshops with elementary teachers are vital. It is in these lower grades that a love of math and science can be instilled in students and a knowledge foundation laid that influences achievement throughout the remainder of their academic career," said Gerber. "We are fortunate at Valdosta State University to be surrounded by a dedicated group of teachers in our surrounding schools that understand the concept of lifelong learning and dedication to student achievement. It is their professionalism that has allowed us to consistently offer the largest STEM teacher professional development projects across the state and to be funded for this purpose with nearly $5 million over the past 10 years". 
Valdosta State also offers a variety of programs and activities throughout the year that encourages learning and engagement in STEM education. 
The College of Arts and Sciences STEM outreach programs include Science Saturday, held six times a year for area children and their parents to engage in science activities at VSU. The College of Arts and Sciences is also offering several summer camps, including a Computer Science Camp for middle and high school students, Camp Invention for elementary students, and a Forensic Science Camp for high school students. 
For two decades, Valdosta State has operated the Lake Louise Field Station. Located approximately nine miles from Valdosta State, Lake Louise is one of the few underdeveloped lakes in South Georgia and helps provide unique opportunities for faculty and students to study plants and animals in their natural habitat. 
Ongoing improvements at the Lake Louise Field Station include a new boardwalk around the lake that will allow students access to areas that were previously unavailable to them. 
Newsroom
Office of Communications Powell Hall West, Suite 1120
Mailing Address
1500 N. Patterson St.
Valdosta, GA 31698
General VSU Information
Office of Communications