Valdosta Early College Academy Students Prepare for College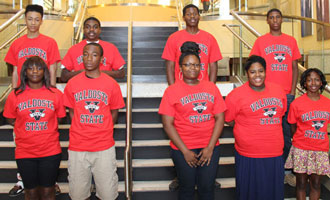 Members of the 2013 VECA Legacy Class arrived at VSU to begin the process of starting college in the fall. Front row (left to right): Shiquan Hunter, Adalis Calhoun, Danielle Wade, Dominique Solo, and Kahlia Alexander. Top row:  Eric Smith, Domonte Bradford, Devontae Leary, and Rashaun Inman. Not pictured: Mitzie Pablo.
VALDOSTA—Valdosta State University recognized 10 rising juniors as the first students from the Valdosta Early College Academy (VECA) to begin earning college credits while still enrolled in high school.
Often described as the Legacy Class, the students began at VECA in 2008 as sixth-graders and this fall 10 students will take math or English at VSU. The remaining 13 students will continue to advance academically and are expected to start classes at VSU in spring 2014.
"This group of students genuinely recognize what it means to be a legacy, when you talk to them they understand what it means to be the first to do something," said Ingrid Hall, principal of VECA. "In the class of 23 rising juniors, all of them have been the first to do many, many things since coming to VECA." 
Hall described the students as "trailblazers" and applauded them and their families for making the commitment and sacrifice to begin the journey.
"This group is blazing another trail and allowing VECA to implement another phase of the program," said Hall, who has been with the students since the first day of classes five years ago. "We appreciate the parents for their support, cooperation and trust. We appreciate how hard these students have worked. They are ready, and they are prepared."
The students will take math or English three days a week, beginning at 8 a.m., and then return to VECA to complete their high school course requirements.
Dr. Brian Gerber, interim dean of the Dewar College of Education, told the students and family members that this is much like taking a long trip and finally reaching your destination.
"When you started you may have said 'are we there yet?' and it has been a long trip," said Gerber, who has served as the VSU coordinator for VECA since the start. "Now with a lot of pride I can answer 'yes you are here.' There is a lot of work to do, but you have arrived.
Gerber said the students have been preparing for this journey for five years and even though there have been obstacles, they have stayed on course. 
Students in the inaugural class have made great gains in their standardized assessments and coursework. Now in it is the fifth year, VECA has 170 students in grades six through 10.
Located in the former S.L. Mason Elementary School facility on Azalea Drive, VECA is a school within the Valdosta City School System that works in partnership with VSU. Students earn both a high school diploma and up to 60 semester hours of college credit by the end of their senior year. The target population for VECA includes low-income, first-generation high school students who are struggling years with potential. Each year, two classes of sixth graders are admitted. By 2014-15, VECA will boost 250 students in grades six through 12.
The 2013 Legacy Class includes Kahlia Alexander, Domonte Bradford, Adalis Calhoun, Shiquan Hunter, Rashaun Inman, Devontae Leary, Mitzie Pablo, Eric Smith, Dominique Solo and Danielle Wade.
Newsroom
Office of Communications Powell Hall West, Suite 1120
Mailing Address
1500 N. Patterson St.
Valdosta, GA 31698
General VSU Information
Office of Communications