University Honors Retirees for Years of Service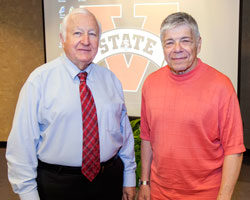 Dr. Fred Ware, left, and Dr. Louis Schmier were honored at the VSU Retiree Luncheon for their years of service. The annual luncheon honored 33 faculty and staff members who have retired during 2012-2013.
VALDOSTA –Valdosta State University's faculty, staff, and administrators gathered today to honor its colleagues who have retired this academic year.
The luncheon, which was sponsored by the VSU Retiree Association, Council on Staff Affairs, and Faculty Senate, paid tribute to 33 faculty and staff members representing a combined 770 years of service to the university.

For Dr. Louis Schmier, professor of history, and Dr. Fred Ware, professor of management, the day represented four decades of service to the university.

Schmier, with 45 years of service, came to Valdosta State College when enrollment was only 1,500 students. It was the transformation from a college to a university, along with the positive impact of the students that has provided him with fond memories.
"The students, especially how they rallied around me both when I had a bout with cancer and a massive cerebral hemorrhage," said Schmier. "All the thank you's from students for making a difference in their lives."
Schmier plans to continue writing and has the first of seven books on the early history of Valdosta's Jewish community scheduled for publication later this year. He also plans to travel and spend time with family.

Ware, with 41 years of service, also notes the increase in the number of students and overall growth of the university as the greatest change since his arrival in 1971.

"Watching students mature and learn is very enjoyable and rewarding," said Ware, who received the VSU Outstanding Service Award and the Langdale College of Business Outstanding Teacher Award. "Being chair of the yearlong search committee when Dr. Zaccari came here as president, this gave all the committee members a great deal of pride, satisfaction and lasting memories."
Traveling and spending time with his family are also on Ware's itinerary for retirement.

2012-2013 Retirees Honored:
William Huey Hiers (10 years)
Clemente C. Hudson (10 years)
Robert J. Williams (10 years)
Cynthia Tandy (11 years)
Kerry T. Hinkle (14 years)
Rayfield Scurry, Jr. (15 years)
Diane L. Judd (15 years)
E. Carolynn Gaston (16 years)
Julia M. Reffel (16 years)
O'Kete J. Shiroya (17 years)
Charles R. Campbell (18 years)
Deborah A. Conrad (19 years)
Shelia B. Wakeley (19 years)
William S. Lee (20 years)
John C. Gaston (21 years)
Stanley C. Andrews (22 years)
Sammy W. Dees (22 years)
Nolan J. Argyle (24 years)
Michael L. Holland (26 year)
Paul E. Worth (26 years)
John S. Lahr (27 years)
Mary T. Consolini (28 years)
John F. Grotgen, Jr. (28 years)
Julia M. Lee (28 years)
Jesse G. Spenser (28 years)
Shelia L. Brantley (30 years)
Doretha Duncan (30 years)
Patricia K. Bezona (31 years)
Willard Alan Park (33 years)
Charles R. Tucker (34 years)
Moses Hardin (36 years)
Fred A. Ware, Jr. (41 years)
Louis E. Schmier (45 years)
Newsroom
Office of Communications Powell Hall West, Suite 1120
Mailing Address
1500 N. Patterson St.
Valdosta, GA 31698
General VSU Information
Office of Communications