VSU Welcomes Tijuana Scott as Educational Talent Search Director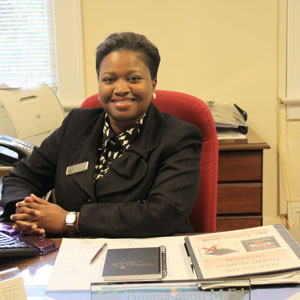 Tijuana Scott, Educational Talent Search Director
VALDOSTA – Tijuana Scott joined Valdosta State University as its new Educational Talent Search Director in February.
As the new director, Scott oversees all Talent Search programmatic activities. The core of the program is designed to assist at-risk students who have the potential to succeed in a college or university.
Funded by the TRiO grant from the U.S. Department of Education, the program serves students by providing academic, career and financial counseling. Services provided by the Talent Search program include career exploration, aptitude assessment, exposure to college campuses, assistance in completing college admissions and financial aid applications, assistance in preparing for college entrance exams, mentoring programs and workshops for the families of participants.
The goal of the Talent Search program is to increase high school graduation rates as well as college enrollment and graduation rates of its participants.  VSU's Talent Search program currently serves 500 students at seven schools in the Valdosta City and Brooks County school systems, which include Valdosta Early College Academy (VECA), Valdosta Middle and High Schools, Newbern Middle School, Pinevale Learning Center and Brooks County Middle and High Schools.
As a former graduate of another highly popular TRiO funded program, Upward Bound, Scott expressed excitement to work with the program and assist students in obtaining higher education.
"The highlight of accepting this position is that I am able to relate to the at-risk children this program serves," said Scott. "As a first generation college student, I realize that these programs provide students with a culture for college. The desire to obtain a college education is something that has to be planted into the students' minds." 
While enrolled in Thomas County Central High School, Scott participated in the Upward Bound program offered through Thomas University in Thomasville. She credits the program for assisting her to graduate as the only minority honor graduate in her high school graduating class in 2000.
Additionally, the Upward Bound Summer Bridge Program allowed her to obtain 12 college credit hours at Thomas University before transferring to Georgia Southern University, where she graduated with cum laude honors receiving two bachelor's degrees in sales marketing and human resources management.
"Because of the bridge program, I graduated in three years instead of four," said Scott. "It was through the guidance of my Upward Bound counselor that I applied for and was awarded the Bill and Melinda Gates Scholarship in its inaugural year. Therefore, I was also able to graduate with my degree debt free."
Scott then earned a master's degree in adult education from Armstrong Atlantic State University.
Scott's professional background includes more than 10 years of international and domestic experience in Human Resources and Procurement, including four years with the Department of Defense in Iraq and Kuwait during Operation Iraqi Freedom and Operation New Dawn.
"I credit much of my professional success to the guidance and exposure I received from the Upward Bound program," said Scott. "It is proven that Talent Search prepares at-risk children, with the potential to excel, to access post-secondary opportunities in order to compete in a global economy. Those students will then become productive, tax paying citizens. I know that TRiO programs work and I am a testimony to that."
Scott hopes to influence successes like hers with the Talent Search program at VSU.
"Our goal is to increase the percentage of first-generation, low-income students who attend and graduate from college," she said.
Currently, Scott visits participating schools weekly and hosts bi-monthly Saturday Academy events for parents and students from 10:30 a.m. to 3 p.m. Upcoming Talent Search activities include a two-week summer day camp for middle school students and its week-long Florida College Tour for high school students. An orientation session is also planned for the fall for new student enrollment.
For more information about Scott or the Educational Talent Search program, call (229) 333-5943 or visit http://www.valdosta.edu/ose/EducationalTalentSearchProgram.shtml .
Newsroom
Office of Communications Powell Hall West, Suite 1120
Mailing Address
1500 N. Patterson St.
Valdosta, GA 31698
General VSU Information
Office of Communications