April 17, 2013
13-132
Jessica Pope
Communications and Media Relations Coordinator
VSU Emerging Artists Showcase Runs April 18-21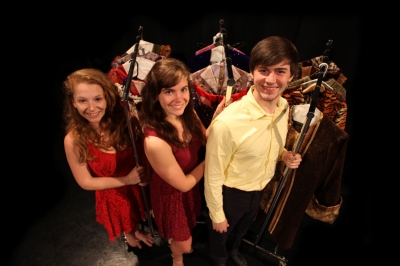 The Musical Theatre Showcase ensemble: Ashley Anderson, Jessica Mathis, and Chance Wall. 
VALDOSTA — Using only the voice and the words, Christa Bynum, April C. Coleman, Khalif Cooper, Noah Ellis, Darshanna Loveland, Clarissa Phillips, Tyrell Ruffin, Matt Tito, and Athena D. White will present four literary selections in dramatic form and kick off Valdosta State University's 2013 Emerging Artists Showcase — a four-day, four-program event — at 7:30 p.m. on Thursday, April 18. 
The Readers Theatre Showcase will feature the VSU Theatre students reading about home from "Ship Shape" by David Sedaris, "Pretty Fire" by Charlayne Woodard, "A Medieval Home Companion: Housekeeping in the Fourteenth Century," as well as "Walden" by Henry David Thoreau.
"The Readers Theatre performance style allows the actor to build images and story in the mind-eye of the audience using only the voice and the words," said Karl B. Wildman, assistant professor of theatre. "It is a demanding and rewarding art form that requires [the] refined technical skill of the actor and an active imagination in the listener. When the two meet, a relationship is established, and a story takes flight — without set, costumes, or movement. It is all about the power of the spoken word as received by the listener." 
"This ensemble of nine dedicated students has made great strides in approaching a text as a creative endeavor rather than a simple exchange of information," he added. "They are confident and creative in their delivery of these selections. I hope the many weeks we have spent together will serve them throughout their lives onstage and off."
Following a 15-minute intermission, the Musical Theatre Showcase will begin.
Graduating seniors Ashley Anderson, Jessica Mathis, and Chance Wall will perform 16 selections, sharing the skills they learned as students at VSU with musical theatre fans of all ages.
"The repertoire for the showcase was chosen by the collective," said Dr. Christopher G. Bailey, assistant professor of musical theatre. "We chose material that showcases the skills these three have honed into marketable sets. The songs range from Dave Matthews ["Crash"] to Rodgers and Hammerstein ["Mr. Snow"] to a new piece that I have composed for them."
"These three cast members have grown into strong leaders in our program," he added. "This showcase is only the beginning of the creative material they will produce during their careers. I have so appreciated getting to know these students during the two years that I have been here, and I ache for more opportunities to work with them in the future. Stand by."
VSU Theatre fans will have a second chance to catch the Readers Theatre Showcase and Musical Theatre Showcase at 7:30 p.m. on Saturday, April 20.
STUDENT CHOREOGRAPHY SHOWCASES
Seventeen Valdosta State Dance students, a combination of juniors and seniors, will demonstrate their knowledge of the art of creating and arranging movements, steps, and patterns when Choreography Showcase One takes center stage at 7:30 p.m. on Friday, April 19. It will feature original dances by DeVanté Graham, Tehya Malone, Halle Biggs, Leah Kelly, Haley Sheppard, Ariel Balla, Jennifer Jackson, Makeda Bryce, and Marie Harper.
Choreography Showcase Two will be held at 3 p.m. on Sunday, April 21, and it, too, will feature "excellent" and "high-caliber" works by Ben McGaha, Nicole Summerlin, Sharia Denise Stripling, Rocky Harris, Helen F. Brown, Rachelle Sanford, Darius Jackson, and Jesse Vickers.  
"… (this performance) represents the final culminating work of our upperclassmen … original choreography they created, crafted, coached, and costumed," Catherine Schaeffer, professor of dance, noted. "It represents their talent, training, and artistic achievement at VSU."
"I pushed them," she added. "They took the challenge … we had numerous critiques of their works-in-progress building up to this concert. I encouraged a variety of work and all genres are represented — ballet, jazz, modern, tap, musical theater — which means a variety of music selected. Forty-six dancers are performing. Quite a few dancers are in two or three pieces. This is going to be awesome."
All Emerging Artists Showcase events will be held in Sawyer Theatre on the first floor of VSU's Fine Arts Building, which is located on the corner of Brookwood Drive and Oak Street.
Tickets are $12 for adults, $10 for senior citizens, $8 for children and non-VSU students, and free for VSU students with identification.
Tickets may be purchased by calling the VSU Theatre and Dance Box Office at (229) 333-5973 between the hours of 2 p.m. and 5 p.m. Monday through Saturday.
Production Staff
• Stage Manager — Abigail Vincent
• Director's Assistant — Noah Ellis
• Light Board Operator — Kelsey South
• Sound Board — Abigail Vincent
• Box Office Manager — Caleb Spivey
• House Managers — Charlotte Grady and Carlie Johnson
• Technical Liaison — Haley Shepard
• Costume Liaison — Deroccius Harris
• Accompanist — Amy Neal
Newsroom
Office of Communications Powell Hall West, Suite 1120
Mailing Address
1500 N. Patterson St.
Valdosta, GA 31698
General VSU Information
Office of Communications