VSU Announces Jennett Scholars Program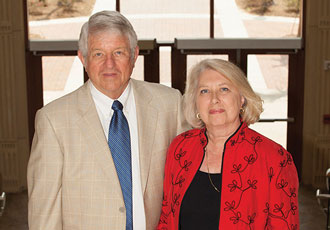 Jerry and Kay Jennett
VALDOSTA--What began as an invitation to a basketball game nearly 40 years ago has blossomed into a friendship between Jerry and Kay Jennett and Valdosta State University.
A highly successful businessman, Jerry has always been an avid sports fan and someone who sees a need and immediately takes action.
"Kay and I were at a women's basketball game, and I noticed that the other team had twice as many players," said Jerry, who serves a CEO of Georgia Gulf Sulfur Corporation. "After the game I went up to Coach [Charles] Cooper and asked why our team was so much smaller.  He said it had to do with the limited number of scholarships that we had for women's basketball."
With that said, Jerry and Kay immediately put into motion the first of many scholarships that have been established by Georgia Gulf Sulfur and personally by the Jennetts.
Growing up Jerry knew that hard work and education were at the cornerstone of his family's values. Working his way through the University of Kansas he appreciated the contributions his family made and the importance of their influence to help him succeed. 
His eagerness to help others, especially students, is especially motivated by his Uncle Marion who grew up in a single-parent home during the Depression. Jerry recalls that a high school coach helped his uncle gain a college scholarship and even provided him a place to live. Marion went on to have a long and successful career in education, serving as school superintendent in Clermont, Iowa. He also served on the Foundation Board of Directors at the University of Northern Iowa, Fayette campus.
"When I think of scholarships and helping students it takes me back to those folks, like my Uncle Marion, who were in education and the impact it had on me," Jerry said. "My dad was a hard worker and my mom was a serious mom. I have been extremely fortunate to have all these people who influenced me and where I went."
The Jennetts' recent financial gift to the university will be used to establish the Jennett Scholars Program. 
"The Jennett Scholars Program will be one of the premier competitive, merit-based scholarship programs offered in the state of Georgia," said VSU President William J. McKinney. "Recipients will receive the highest level of scholarship support offered by Valdosta State University. The goal is to attract highly qualified, highly motivated students who will increase the over-all academic profile of the VSU student body."
According to John Crawford, vice president for Advancement and CEO of the VSU Foundation, the Jennett Scholars Program will annually provide five freshmen with $5,000 for four years. The Jennett Scholars will also receive a waiver for on-campus housing as part of the scholarship program.
Students selected as a Jennett Scholar must maintain a GPA of 3.0 to continue receiving the scholarship. When coupled with the HOPE Scholarship, the Jennett Scholars award will essentially include full tuition and fees, room, board, and a book scholarship for most recipients.
"From the arts, to athletics, and academics, the Jennetts are recognized and embraced by this campus," said Michael Savoie, interim director of the Honors College. "The Jennett Scholars Program is yet another generous contribution that will allow the best and brightest to recognize the benefit of studying at Valdosta State University."
Savoie said the first Jennett Scholars will be selected fall 2013 and enter VSU as freshmen in fall 2014. The selection process is rigorous with a minimum SAT score of 1300 or ACT 29 required to be included in the selection process. Qualified applicants will be invited to campus for a review process that includes essay writing, personal interviews, and group activities. Five students will then be selected as Jennett Scholars.
In 2011, Valdosta State's Honors Program was transitioned into the Honors College. The expanded curriculum is centered on innovation and creative engagement, which prepares honors graduates with the academic and civic skills to meet the challenges of 21st century global society.
"The Honors College is distinguished in its innovative and engaging approaches to scholarship, creative activities, social engagement, and civic responsibilities," Savoie said. "Our mission is more than just about academic distinction; it is also about giving back and contributing to our society. Given this mission, I could not think of better benefactors than Kay and Jerry Jennett."
Chelsie Norton, President of the Honors Student Association, said she is excited about the changes and growth of the Honors College, especially the  scholarship opportunities for new students.
"The program has really grown, we now have students from different majors involved in the program," said Norton, who is scheduled to graduate next year with a double-major in mathematics and middle grades education. "My favorite part about being in the honors program is the class sizes, you get more one-on-one time with faculty…it also pushes you to think in a way that you might not normally think and be more creative."
Thanks to the generosity of Jerry and his partners at Georgia Gulf Sulfur, many significant gifts have been made to Valdosta State University including to the Langdale College of Business Administration (LCOBA) and several athletic programs. For more than 25 years, Georgia Gulf Sulfur has funded scholarships for student-athletes studying in the LCOBA. Georgia Gulf Sulfur has also established an endowed scholarship for finance majors in the LCOBA.
Personally, the Jennetts have made financial gifts in the arts and athletics, including the Kay M. Jennett Music and Theatre Scholarship and the Jerry Jennett Choir Scholarship. In appreciation to the friend who first introduced them to Valdosta State, they established the Robin Robinson Scholarship to benefit students studying music and theater.
Newsroom
Office of Communications Powell Hall West, Suite 1120
Mailing Address
1500 N. Patterson St.
Valdosta, GA 31698
General VSU Information
Office of Communications