University Presents Outstanding Public Administration Awards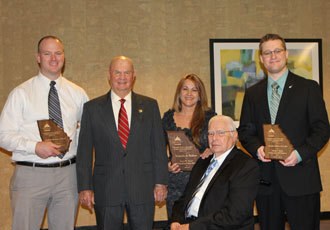 Pictured, left to right, Hugh C. Bailey Outstanding MPA Student recipient Joshua Alfred, former Senator Loyce Turner, the Loyce W. Turner Outstanding Public Official recipient Sementha Mathews, Dr. Nolan Argyle and Daniel Lohr, also a recipient of the Hugh C. Bailey Outstanding MPA Student award.
VALDOSTA—Valdosta State University presented Sementha Mathews with the 2013 Loyce W. Turner Outstanding Public Service Award. 
Each year, VSU's Public Administration Advisory Committee (PAAC) presents the award to a member of the community who is involved in some aspect of public service. 
Mathews currently serves as the public information officer for the City of Valdosta, where she is responsible for the short- and long-range planning, organization, and direction of the city's information program. 
Mathews, who is president-elect of Leadership Lowndes, received a master's degree in public administration from VSU and is an adjunct instructor in the university's Department of Communications. 
"I am honored to receive this award named after Loyce Turner, whose entire life is a shining example of a dedicated public servant," said Mathews, who was the 2011 Valdosta Junior Service League Woman of the Year. "I'm also grateful to represent the City of Valdosta, where I am fortunate to serve under the finest leaders in our community—many of them also recipients of this award. They have really been my best examples—day in and day out—of what it means to be a public servant—the joys, the challenges, and everything in between. I enjoy the privilege of serving my leadership and our citizens through my role as the city's Public Information Officer." 
In addition to the Loyce W. Turner Public Service Award, PAAC recognized its top students for the year. 
Kimberly Gray received the Hugh C. Bailey Outstanding Doctor of Public Administration (DPA) Student Award. The Hugh C. Bailey Outstanding Master of Public Administration (MPA) Student Award was given Daniel Lohr, Krystal Black, and Joshua Allred. 
A special presentation was also given to Dr. Nolan Argyle, who will retire in June and is credited with developing both the Master of Public Administration and Doctor of Public Administration programs. 
Argyle, who serves as the coordinator for the public administration programs and dean of the off-campus programs, said that getting the DPA program established in 2007 was a highlight of his career along with achieving NASPAA accreditation for the MPA program. 
Valdosta City Manager Larry Hanson presented a proclamation to Argyle, which read, "Dr. Argyle, through his ability to teach, has helped form the minds of many of our civic leaders of today." 
Dr. James Peterson, professor of political science, said Argyle designed and pioneered the MPA and DPA programs. 
"He has been a wonderful mentor to countless graduate students, has skillfully utilized the professional skills of his colleagues, and has accomplished noteworthy research projects that link classical political philosophy to current programs and puzzles of public administration," said Peterson. "All-in-all, he has been a constant friend and terrific colleague." 
Many of Argyle's colleagues and former students were in attendance to recognize his 28 years of service to the university and the public administration programs. 
"Dr. Argyle is more than an advisor and professor; he is a resource," said Dr. Rob Keller, director of VSU's Auxiliary Services, who graduated from Valdosta State with an MPA in 1991 and a DPA in 2010. "He could frame theory in a manner that allowed me to put it into practice, enhancing my understanding of the art of administration."
Newsroom
Office of Communications Powell Hall West, Suite 1120
Mailing Address
1500 N. Patterson St.
Valdosta, GA 31698
General VSU Information
Office of Communications