Student Employees Honored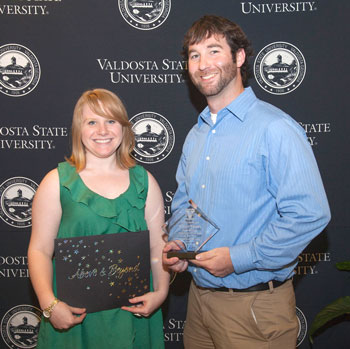 Crystal Floyd, Student Employee of the Year, and Brian Smith, Outstanding Graduate Assistant of the Year
VALDOSTA – Valdosta State University's Office of Student Employment and the Graduate School recognized several student employees for high achievement during the 2012-13 Student Employee of the Year award ceremony Thursday, April 11.
Crystal Floyd, a student assistant in the Department of Communication Arts was recognized as the Student Employee of the Year.
Floyd is a senior middle grades education major from Hawkinsville. She is a dean's list recipient and member of the Georgia Alpha chapter of the Alpha Chi National Honor Society.
Floyd's work as a student assistant includes creating databases, reviewing documents and fulfilling additional clerical duties as needed.
"The Department of Communication Arts could not have survived with Crystal and the work she has provided for us," said Dr. Deborah Robson, associate professor of communication.
The Graduate School recognized three finalists for Outstanding Graduate Assistant of the Year for their exemplary work in the offices they served. These students include Jeanevra Pearson for her work with Adult and Career Education, Alex Thomas for his work with Public Administration and Nicholas Grisak – now a staff member at VSU – for his work with Strategic Research and Analysis.
Brian Smith, a graduate assistant with Campus Recreation, was named Outstanding Graduate Assistant of the Year. Smith, who will receive his master's degree in higher education leadership in May, currently works with intramural and club sports.
In addition to fulfilling job duties such as scheduling, travel and financing for club sports and training and evaluating officials, Smith assumed the role of assistant director for six months after his boss left the position. Smith has kept the program running smoothly in the absence of the assistant director. His department describes him as "a great representative of the excellence that is Valdosta State University."
During the ceremony, 45 students were recognized as nominees for Student Assistant of the Year and Outstanding Graduate Assistant of the Year. The awards were presented during National Student Employment Week, which was observed April 8-12.
Newsroom
Office of Communications Powell Hall West, Suite 1120
Mailing Address
1500 N. Patterson St.
Valdosta, GA 31698
General VSU Information
Office of Communications