Inauguration Week Showcases Student Research and Scholarly Activities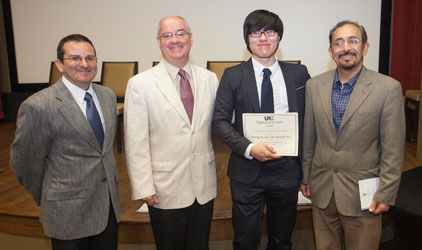 Winner of Best Paper Session: Seong Hyun An "Designing the Military Vehicle of the Next Generation." Pictured, left, Michael Savoie, James LaPlant, Seong Hyun An, and Barry Hojjatie.
VALDOSTA – Students showcased their diverse research during Valdosta State University's Undergraduate Research Symposium April 1-2. For 17 years, the College of Arts and Sciences has hosted the symposium that showcases research and scholarly activities of undergraduate students. In 2012, the symposium was expanded campus-wide to include students from all disciplines. 
This year's symposium featured 34 oral presentations, as well as a student debate on changes to the HOPE Scholarship. There were 85 poster presentations, which was a record for the symposium, and more than 50 art students displayed 107 pieces of creative works of art. 
According to Dr. James LaPlant, interim dean of the Graduate School and assistant vice president for research, more than 250 students participated in this year's symposium. 
"We set an institutional goal of having more than 200 students participate in the second years of the campus-wide Undergraduate Research Symposium, and we are excited that we went well beyond that target," said LaPlant. "The symposium this year featured the VSU Student Art Competition for the first time." 
The symposium also featured a panel of faculty and students from across the campus discussing collaborative and innovative research, which was a new addition to the symposium. 
"The quality of the student oral presentations, poster presentations, and art work was simply awesome," said LaPlant.
2013 Student Awards:
Best Paper Award:
"Designing the Military Vehicle of the Next Generation"
Seong Hyun (Richard) An
Department of Physics, Astronomy, Geosciences, and Engineering Studies
Dr. Barry Hojjatie, Faculty Adviser
Best Paper Award Runner-Up (co-winners):
"Theoretical Drivers of Early Career Success for New Entrants to the Job Market"
Lesley Nicole Hamm
Department of Management and International Business
Dr. M. Todd Royle, Faculty Adviser 
"The Violent Nature of the Iroquois"
Thomas Lovett
Department of History
Dr. Dixie Haggard, Faculty Adviser
Best Poster Award in the Sciences:
"Hegle – High Engagement Graphical Learning Environment"
Ilya K. Rogers
Dr. Sudip Chakraborty, Faculty Adviser 
Best Poster Award Runner-up in the Sciences (co-winners):
"The Effects of Ocean Acidification and Copper Exposure in Two Species of Scleractinian Corals"
Pratik Pravin Patel
Dr. Gretchen Bielmyer, Faculty Adviser 
"Photocurrent Production of Iron Oxide Films Modified with Enediol Ligands"
Raymond G. Fontanez
Dr. Linda de la Garza, Faculty Adviser

Best Poster Award in the Social Sciences:
"The Green Machine: Voting Behavior on the Recreational Use of Marijuana"
Taton Thompson
Dr. James LaPlant, Faculty Adviser 
Best Poster Award in the Humanities:
"Understanding Buddhist Social Action in Myanmar"
Jason Cole Singletary
Dr. Michael Stoltzfus, Faculty Adviser 
Best Poster Award in the College of Education:
"Examining Parent-Child Interaction within Everyday Routines"
Elizabeth Melton and Chelsea Bartholomew
Dr. Jade Coston, Faculty Adviser
Newsroom
Office of Communications Powell Hall West, Suite 1120
Mailing Address
1500 N. Patterson St.
Valdosta, GA 31698
General VSU Information
Office of Communications