Graduate School Recognizes Scholarly Activities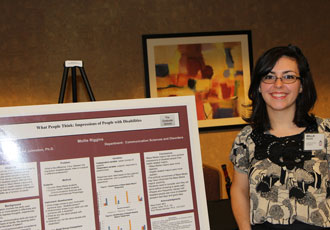 Graduate student Mollie Riggins presented her research titled "What People Think: Impressions of Disable People" during the fifth annual Graduate Research Symposium on April 12.
VALDOSTA – Valdosta State University's Graduate School showcased the scholarly activities of students at the master's and doctoral levels during the annual Graduate Research Symposium on April 12, in the University Center Magnolia Room. 
"The event highlights the innovative research of our graduate students which is contributing new knowledge in their fields of study," said Dr. James LaPlant, interim dean of the Graduate School and assistant vice president for research. "Fundamentally, the Graduate Research Symposium reflects the mentoring role of our graduate faculty in working with graduate students to produce high-impact research." 
In its fifth year, the symposium has steadily grown with a record number 47 poster presentations this year. 
"The symposium provides an opportunity for graduate students to present their research to a campus-wide audience of faculty and fellow students," said LaPlant. "Graduate students can discuss the evolution of their research, the methodology and research design of their project, and the next stages of their research as well as potential publication opportunities." 
2013 Graduate Research Symposium Presenters: 
Fiifi A. Dadzie Comparison and Identification of Kryptolebias Marmoratus, Kryptolebias Ocelatus and their Hybrid "Gitmo" Using Gene Study
Tayler A. Jarvis Toxicity of Zno Nanoparticles to the Copepod, Acartia Tonsa, Exposed Through a Phytoplankton Diet
Antonio C. Ortiz Study of the Gene Regulatory Network for Sea Urchin Pigment Cells Development
Charles W. Wright Bridges as Refugia for Fish and Macroinvertebrate Assemblages Through Drought Conditions
Jessica Gandy A Midwife's Travail: Changes in the Art of Midwifery Between 1775 and 1888
Alexandra A. Melick Masquerade Fashion: Masking European Social Issues, 1814 – 1900
Phillip Williams Whites Executed in the U.S. for Murdering African-Americans 1739-1972
Kelly Godfrey Park Parents and Pipsqueaks: Observing Parent-Child Interaction in Public Parks
Kathryn Mathews: Deployment Effects to Military Families
Elizabeth Mueller Systemic Influence of Medical Diagnoses Upon Family Members: A Qualitative Literature Review
Anthony L. Potter and Dontea' Mitchell-Hunter African-American Perceptions of the Mental Health Care System
Jordana Price An Exploration of Marriage and Family Therapists' Experiences with ADHD and the Discrepancies Between Written Research
Joshua Waters and Jessica Moger Therapists' Reflections: Working with Loss of Children and Young Adults
Sydney Earley The Role of Corrective Feedback in Second Language Acquisition
Christan Marsh How Does the Acquisition of a Second Language Affect Cognition?
Ewelina B. Gad Sparks The Affordable Care Act's Impact on Employer-Sponsored Insurance, Employers, and Employees: The Case of the Langdale Company
Beatriz Potter Retention and Academic Achievement in Online Courses: A Case in Spanish Courses
Kristy Singletary Andragogical Principles that Work in the Multicultural College English Classroom
Amanda Alexander Tangible Homework Assignments for an Adult with Apraxia Speech
Lauren Camara and Lydia Fleming Effects of Bolus Characteristics on the Normal Swallow
Rebecca Golden The Use of Storybook Visuals to Elicit Verbal Responses to WH Questions
Sara Lively Generated and Traditional Language Sample Analysis
Corie Parfitt The Effects of Delayed Auditory Feedback on Fluent Identical Twins
Mollie Riggins What People Think: Impressions of Disabled People
David Sampson Decreasing Off-Task Behaviors and Attention and Concentration Deficits in Individuals with Traumatic Brain Injuries
Lauren Temmel Effects of Sugar on Attentiveness to a Task Under Normal and Elevated Consumption of Sugar
Charla Houston Allen Portraits of the Past-Perspectives for the Present: A Study of Segregated and Desegregated Public Schools in Early County, Georgia 1960-1981
Alisande Fountain Mayer Factors that Predict Student Achievement in Georgia Public Schools
Doel A. Parrilla Improving Student Health Centers by Incorporating Mental Health Wellness
Sarah Cain Effectiveness of Positive Adult Interaction in Reading and Taking More Accelerated Reading Tests
Kimberly Walden Increasing Appropriate Behavior During Transition for an Elementar-Aged Student with Autism
Julie Wislon Effectiveness of Grant Based Afterschool Programs in Raising Classroom Grades
Robert A. Griffin Effect of Rosetta Stone on English Language Proficiency Scores of Secondary School English Learners
Jennifer Head Effects of Mathematics Acceleration on Achievement, Perception, and Behavior in Low-Performing Secondary Students
Amy L. Ellison Overconfident and Overwhelmed: Examining Research Anxiety in Millennial First-Year Undergraduates
Jennifer Lautzenheiser Services to the Aging at Perry Public Library as Measured by the ALA Guidelines for Services to Older Adults
Gladys Sone A Model for the Use of Nurse Practitioners in Skilled Nursing Facilities
Lori Tomlinson and Susan Bellinger Hypertension Protocol Update for Use in the Partnership Health Center of Lowndes County
Shauna Daniels The New Civil Rights: An In Depth Look at Same Sex Marriage
Aelred Bernard Dean History of Same Sex Marriage and Civil Union in the United States
Cynthia L. Doss A Compendium on Risk Assessment in the Clinical Environment
James Eustis The Veteran's Administration (VA) and Post Traumatic Stress Disorder (PTSD)
Gerilyn Pepin The Effectiveness of Praise on During Pre-School Children's Development Years
Brandi Porter The Effectiveness of Utilizing Repetition to Increase Academic Sills for a Kindergarten Student
Rochelle Schube Impact of Affordable Care Act on Client Assistance in Rural Communities
Newsroom
Office of Communications Powell Hall West, Suite 1120
Mailing Address
1500 N. Patterson St.
Valdosta, GA 31698
General VSU Information
Office of Communications