April 12, 2013
13-121
Sara Lynn McCall, Graduate Assistant
Fishing Duo Wins FLW College Fishing Southeastern Conference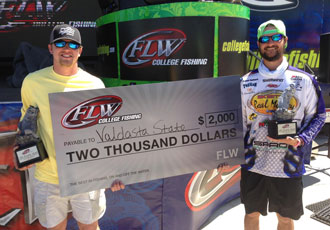 VSU Fishing Team members Grant Colson, left, and Michael Harbach brought home the prize catch in the FLW College Fishing Southeastern Conference on Lake Seminole. 
VALDOSTA – The Valdosta State University fishing team duo, Grant Colson and Michael Harbach, won the FLW College Fishing Southeastern Conference event on Lake Seminole on Saturday, April 6, with three bass weighing 10 pounds.
Colson and Harbach, both of Valdosta, earned the club $2000 and advanced the team to the FLW College Fishing Southeastern Conference Invitational Tournament.
"It was pretty slow for the first part of the day," said Harbach, a junior majoring in exercise physiology. "We tried to fish a frog early in the morning, but it just wasn't happening. We went out to the main lake and that's when we tied on a Carolina rig. Grant caught the first one on it, and the bite turned off again for another hour and a half. We caught the last two just before we had to come in. I honestly didn't think we had enough to win."
The top 15 teams from each qualifying tournament will advance to one of five two-day FLW College Fishing Conference Invitational tournaments, where the first-place team wins $4000 for their club. The top 10 teams from each Conference Invitational advance to the 2014 FLW College Fishing National Championship.
"Man, it feels great," said Colson, a junior accounting major. "Everybody gets lucky every once in a while, and today was just our day."
The FLW College Southeastern Conference Invitational Tournament is scheduled for May 11-12 at Wheeler Lake in Rogersville, AL.
For more information, visit collegefishing.com. 
Newsroom
Office of Communications Powell Hall West, Suite 1120
Mailing Address
1500 N. Patterson St.
Valdosta, GA 31698
General VSU Information
Office of Communications