Biology Professor Studies Icefish in Antarctica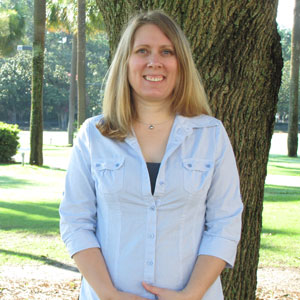 Dr. Theresa Grove
VALDOSTA – On Tuesday, April 9, Dr. Theresa Grove, associate professor in Valdosta State University's Department of Biology, will journey to Antarctica with a research team to study the biology of Antarctic fishes.
"The research, funded by the National Science Foundation, specifically examines the physiology of a unique group of fishes called icefish that live in the chronically cold environment of the Southern Ocean," said Grove, who will be joining Dr. Kristin O'Brien from the University of Alaska, Fairbanks and Dr. Lisa Crockett from Ohio University. 
One of the unique characteristics of icefishes is the lack of the oxygen-binding protein hemoglobin in its blood. This causes the blood to appear white unlike other vertebrates who have red blood.
"Results from this research will expand our understanding of how this group of fishes has adapted to the extreme environment of the Southern Ocean," said Grove. "What we learn from these fishes has broader applicability in the field of biomedical research, specifically understanding cell damage that accumulates in patients with Alzheimer's, Parkinson's and cardiovascular diseases."

The research team will leave the United States Tuesday and travel to Punta Arenas, Chile, where they will take a research vessel to Palmer Station, located on Anvers Island off the Antarctic Peninsula. Palmer Station will serve as the home base for much of the research. The team will return at the beginning of July.
"I appreciate the invitation to join this research team that is composed of leaders in the field of Antarctic fish biology," Grove said. "One interesting note about the research team is that Kristin, Lisa and I all earned our Ph.D.s from the University of Maine under the guidance of Dr. Bruce D. Sidell who was a leader in the field of fish physiology and cold adaptation. As academic siblings we are looking forward to working together in Antarctica. After I return to Valdosta I will incorporate the new laboratory techniques into my biology courses. I am also finalizing outreach opportunities with local schools so that students outside VSU can learn what it is like to work and live in Antarctica."
This will be Grove's fourth trip to Antarctica to conduct research. While in graduate school at the University of Maine, she spent three field seasons at Palmer Station with Sidell, who is now deceased.
"As a marine biologist I am interested in how fishes have adapted to different environments. Conducting research in Antarctica is an activity that few scientists get the opportunity to do and is something that I could not pass up for my own professional development.This opportunity opens the door for me to develop my own research project on the physiology of cold-adapted Antarctic fishes that I can bring back to my lab at VSU."
Grove expressed gratitude to Stanley Jones, Registrar; Dr. Robert Gannon, Head of the Department of Biology; Dr. Connie Richards, Dean of the College of Arts and Sciences; and the Office of Academic Affairs for their assistance in this opportunity.
"Having a faculty member asked to join a research team in Antarctica is an honor," Grove said. "Their support reflects highly on VSU's commitment to enhancing the research goals of faculty, and I hope that the administration will continue to support similar faculty endeavors."
To learn more about the biology of Antarctic fishes and to follow the blog during the 2013 Field Season, visit https://sites.google.com/a/alaska.edu/antarctic-fish-biology/home .
Newsroom
Office of Communications Powell Hall West, Suite 1120
Mailing Address
1500 N. Patterson St.
Valdosta, GA 31698
General VSU Information
Office of Communications