March 6, 2013
13-67
Jessica Pope
Communications and Media Relations Coordinator
VSU Debate Team Wins National Championship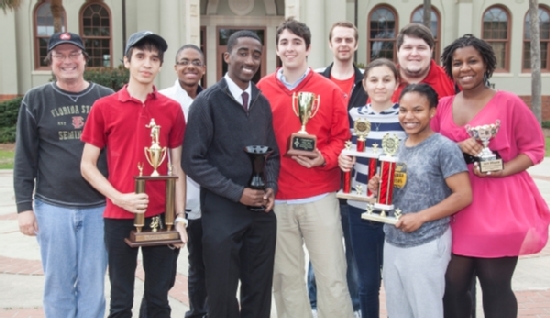 Pictured, from left to right, are (front row) Dr. Michael Eaves, Keven Rudrow, Yannick Gill, John Desselle, Hannah Tabrizi, Erin Taliaferro, Allante Fairley; (back row) Chesley McNeil, Michael Wedmer, Kevin Bryant. 
VALDOSTA — Valdosta State University is home to a national championship football team, softball team, and tennis team, and as of a few days ago, it is now home to the 2013 national championship debate team.
The VSU Forensics (Speech and Debate) Team won the Delta Sigma Rho Tau Kappa Alpha National Debate Championship, which was held at the University of Florida March 1-2. Dr. Michael Eaves, director of forensics, said that the competition was a varsity/open tournament and schools only sent their best debaters.
VSU primarily competed against only Division I schools during the tournament and only Division I schools in the elimination rounds. In the end, Eaves' team edged out the University of Miami by a score of 115 to 112 to capture the overall sweepstakes national title.
Individual speaking awards were presented to John B. Desselle for second place overall best debater and Erin Taliaferro for third place overall best debater.
"This is the best finish we have ever had in the history of the VSU debate program," said Eaves.
The winning VSU Forensics (Speech and Debate) Team consisted of four pairs of debaters — Yannick Gill and John B. Desselle, Erin Taliaferro and Keven Rudrow, Allante Fairley and Hannah Tabrizi, and Michael Widmer and Chesley McNeil.
Eaves credited his assistant coach, Kevin Bryant, a first-year graduate student pursuing a master's degree in the Department of Communication Arts, with much of the team's success during the tournament. He said he could not have done it without Bryant's insight and coaching.
The VSU Forensics (Speech and Debate) Team is open to all majors on campus and does not require previous experience, Eaves noted. The team competes in regional and national level competitions and participates in parliamentary debate as well as individual events, including impromptu speaking, extemporaneous speaking, informative speaking, persuasion, dramatic interpretation, dramatic duo, poetry interpretation, and more.
Contact Dr. Michael Eaves at (229) 259-5116 or meaves@valdosta.edu for more information.
Newsroom
Office of Communications Powell Hall West, Suite 1120
Mailing Address
1500 N. Patterson St.
Valdosta, GA 31698
General VSU Information
Office of Communications