March 7, 2013
13-71
Jessica Pope
Communications and Media Relations Coordinator
VSO Performs Haydn's 'The Creation' March 9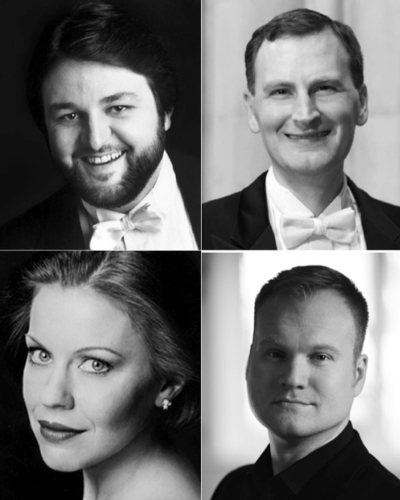 Pictured, clockwise from top left, are Stanford Olsen, Dr. Paul Neal, Nathan Stark, and Tamara Hardesty. 
VALDOSTA — Between 1796 and 1798, Franz Joseph Haydn composed an oratorio depicting and celebrating the creation of the world as described in the biblical Book of Genesis. Inspired by George Frideric Handel's oratorios, especially "Messiah," he structured the masterpiece in three parts and scored it for soprano, tenor, and bass soloists, as well as a full chorus and symphonic orchestra.
At 8 p.m. on Saturday, March 9, the Valdosta Symphony Orchestra and friends will perform Haydn's "The Creation" under the direction of Dr. Paul Neal, associate VSO conductor. The performance will be held in Valdosta State University's Whitehead Auditorium. Individual tickets are $25 for adults and $10 for students. Reservations are required.
"I'm very excited to be conducting this performance," said Neal, who also serves as director of the university's Choral Studies Program. "Haydn's 'The Creation' has not been presented in the history of the Valdosta Symphony Orchestra, so this will be an exciting addition to their performance roster."
The performance will feature VSU's Concert Choir and Chamber Singers, as well as the VSO Chorus.
Tamara Hardesty, soprano, will perform the roles of Gabriel and Eve. A member of the university's voice faculty since 2009, she has sung lead operatic roles with opera companies in Connecticut, New York, Florida, Indiana, California, and Ohio and has performed at events benefiting and memorializing victims of the Sept. 11 tragedies and the 2011 tsunami in Japan. She earned a bachelor's degree from the Manhattan School of Music, a master's degree from the Curtis Institute of Music, and a Doctor of Musical Arts from the University of Connecticut.
Stanford Olsen, tenor, will sing the role of Uriel. He has performed over 150 times with New York City's Metropolitan Opera and with most other significant opera companies in the United States and Europe. His recordings of Johann Sebastian Bach, Wolfgang Amadeus Mozart, and Gioacchino Rossini have received critical praise, as well as a couple of Grammy Award nominations. He is a member of the voice faculty at the University of Michigan.
Nathan Stark, bass, will perform the roles of Raphael and Adam. He has performed on operatic and concert stages throughout the United States, China, and Europe. An award-winning vocalist, he earned a Bachelor of Music and Master of Music from California State University at Long Beach and an Artist Diploma from the Cincinnati Conservatory of Music.
Saturday's concert is sponsored by Ladenburg Thalmann & Co. Inc.
A special youth concert featuring selected sections of Haydn's work will be held at 10 a.m. on Friday, March 8.
Whitehead Auditorium is located on the first floor of VSU's Fine Arts Building, on the corner of Brookwood Drive and Oak Street.
Visit www.valdostasymphony.org or call VSU's College of Arts Outreach Office at (229) 333-2150 to reserve tickets or learn more.
The Downtown Symphony Club, a social group for young and young-at-heart music lovers and professionals, will meet prior to the concert for drinks and a three-course dinner at 5 p.m. at 306 North in Downtown Valdosta. Contact Dr. Shannon Lowe, an instructor of bassoon, music theory, and chamber ensembles at Valdosta State, at downtownsymphonyclub@gmail.com. Club members receive a 20 percent discount on single tickets, exclusive dinner deals on concert nights, the chance to meet and socialize after the concert with the soloist, conductor, and orchestra musicians, and more. 
NOTE: The Valdosta Symphony Orchestra (VSO) is once again participating in the annual League of American Orchestra's Orchestras Feeding America National Food Drive. Visit http://www.valdosta.edu/about/news/releases/2013/03/vso-participates-in-orchestras-feeding-america-national-food-drive--.php to learn more about the orchestra's efforts to assist Second Harvest of South Georgia.
Newsroom
Office of Communications Powell Hall West, Suite 1120
Mailing Address
1500 N. Patterson St.
Valdosta, GA 31698
General VSU Information
Office of Communications