March 4, 2013
13-59
Sara Lynn McCall, Graduate Assistant
Spectator Brings Home Six Awards from Press Association Conference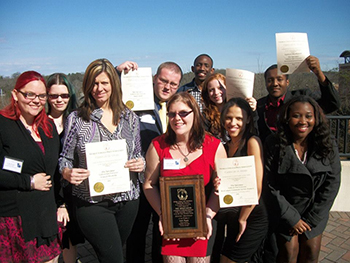 From left: Cody Hicks, Rebecka McAleer, Aimee Napier, Joe Adgie, Amber Smith, Eric Jackson, Jennifer Gleason, Amanda Usher, Von Kennedy and Shambree Wartel
VALDOSTA - The Spectator, Valdosta State University's independent student newspaper, brought home six awards from this year's Georgia College Press Association Conference and Awards Ceremony on Feb. 1 and 2, at The Classic Center in Athens, Ga. More than 195 student journalists and faculty advisers from 22 Georgia colleges and 50 professional journalists were in attendance.
The Spectator took a group of 11 editors, writers and advisers, and the staff brought home six statewide awards in a variety of categories. The contest was judged by a panel of professional journalists. One of the awards was third place in the entire state of Georgia for General Excellence. The staff also got to attend two days of panels and workshops that covered numerous topics related to journalism.
"The staff hopes to use what they learned to improve news coverage at VSU and Valdosta," said Dr. Ted Geltner, assistant professor of journalism and Spectator advisor. "The staff of the Spectator was extremely pleased to be honored by fellow journalists and hopes to use the experience as motivation to raise the level of journalism even higher at the Spectator moving forward."
Spectator Awards include:
Best Advertising, Spectator staff, Third place
Entertainment Feature, Garrison Muelhausen, Second place
Best Campus Community Service, Features, Spectator staff, Third place
Improvement Award, Spectator staff, Third place
Best Campus Community Service, Editorial, Spectator staff, Third place
General Excellence, Spectator staff, Third place
For more information about the Spectator, contact Geltner at tageltner@valdosta.edu. The Spectator publishes each Thursday during spring and fall semesters and can be viewed online at www.vsuspectator.com. More information about GCPA is available online at www.gapress.org/gcpa.html.
Newsroom
Office of Communications Powell Hall West, Suite 1120
Mailing Address
1500 N. Patterson St.
Valdosta, GA 31698
General VSU Information
Office of Communications