Media Advisory: Air Force ROTC Hosts Local Bataan Memorial Death March This Weekend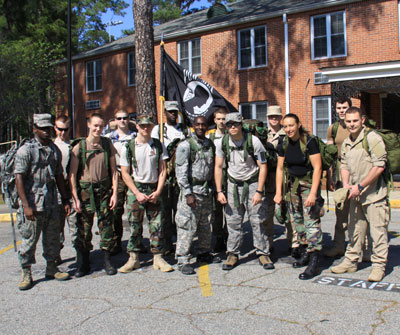 VALDOSTA - This weekend cadets from Valdosta State University's Air Force ROTC Detachment 172 and civilians from the campus and community will participate in the third local Bataan Memorial Death March. Participants will walk 26.2 miles down the streets of Valdosta carrying 35 to 50 pound sacks in remembrance of the thousands of American and Filipino soldiers who became prisoners of war in the Philippines during World War II.

Participants will meet at 3:30 p.m. Friday, March 29, in front of North Campus and walk 13.1 miles north toward Moody Air Force Base. They will meet the next morning at the same location the next day to walk the remaining 13.1 miles. 

The first ever Bataan Memorial Death March was organized in 1989 by the Army ROTC program at New Mexico State University. In 1992, White Sands Missile Range and the New Mexico National Guard joined the ROTC program in sponsorship of the event and it was moved to the missile range. Since its inception, the march has grown from about 100 to some 5,200 marchers from across the United States and several foreign countries. While still primarily a military event, many civilians choose to take the challenge.
For more information, contact Malynda Dorsey, communications specialist, at mmdorsey@valdosta.edu or (229) 333-7177. 
Newsroom
Office of Communications Powell Hall West, Suite 1120
Mailing Address
1500 N. Patterson St.
Valdosta, GA 31698
General VSU Information
Office of Communications