February 11, 2013
13-37
Jessica Pope
Communications and Media Relations Coordinator
VSU's Kristen Johns Performs in Valentine's Day Concert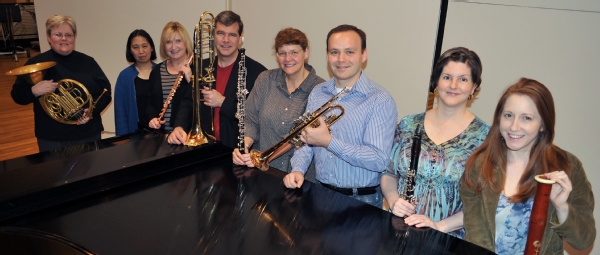 Pictured, from left to right, are Dr. Kristen Johns, Maila Gutierrez Springfield, Dr. Elizabeth Goode, Dr. Doug Farwelll, Dr. Susan Eischeid, Eduardo Farias, Dr. Sarah Cain, and Dr. Shannon Lowe.  
VALDOSTA — Dr. Kristen M. Johns has played the horn since she was 10 years old. The associate professor of music at Valdosta State University was captivated by the brass instrument's sound.
"It can be delicate and soothing and then bold and powerful," she said.
The VSU Department of Music will host a faculty recital featuring Johns on the horn at 7:30 p.m. on Thursday, Feb. 14, in Whitehead Auditorium. The concert is free of charge and open to the public.
Johns will perform four pieces of music, including Louis Piantoni's Air de Chasse for Horn and Piano, Carl Reinecke's Trio for Piano, Oboe, and Horn, Op. 188, and Francis Poulenc's Sonata for Horn, Trumpet, and Trombone and Sextet for Piano, Flute, Oboe, Clarinet, Bassoon, and Horn. Throughout the evening, she will be joined by Dr. Susan Eischeid on oboe, Maila Gutierrez Springfield on piano, Dr. Elizabeth Goode on flute, Dr. Sarah Cain on clarinet, Dr. Shannon Lowe on bassoon, Dr. Doug Farwell on trombone, and Eduardo Farias on trumpet.
"The audience will experience a wide range of musical styles and sounds during this concert — largely because of the different instruments in the chamber ensembles featured," she said.
"I enjoy bringing old favorites and new music to audiences for their enjoyment and enrichment," she added.
Johns joined the university faculty in 1995. She teaches all horn majors, as well as music history, introduction to music, fundamentals of music, brass methods, and brass quintet chamber music.
"I enjoy watching students discover their own strengths and interests, seeing their lives unfold, and helping them get where they want to go," she said.
Johns holds both a Doctor of Musical Arts and Master of Music from the College-Conservatory of Music of the University of Cincinnati and a Bachelor of Music from the University of Michigan. She serves as principal horn in the Valdosta Symphony Orchestra.
Whitehead Auditorium is located on the first floor of VSU's Fine Arts Building, at the intersection of Brookwood Drive and Oak Street.
Contact Dr. Kristen M. Johns at (229) 293-6195 or kmjohns@valdosta.edu to learn more.
On the Web:
Newsroom
Office of Communications Powell Hall West, Suite 1120
Mailing Address
1500 N. Patterson St.
Valdosta, GA 31698
General VSU Information
Office of Communications