VSU Holds Arbor Day Ceremony Feb.15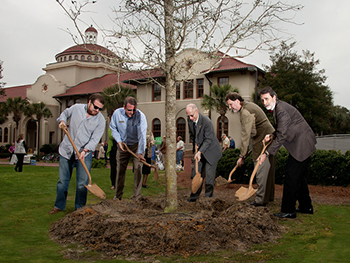 Dignitaries plant a tree on Valdosta State University's front lawn during the 2012 Arbor Day Ceremony.
VALDOSTA - Valdosta State University will join the Valdosta Tree Commission to host the annual Arbor Day Ceremony Friday, Feb. 15, at 10 a.m. at the VSU Palms Quad.
During the ceremony, the City of Valdosta will be honored as a Tree City USA community for its 27th consecutive year. VSU will also receive its designation as Tree Campus USA, making it one of eight universities in Georgia to have this designation.
"In the past year, VSU has taken various steps to obtain Tree Campus USA designation," said Brett Ganas, assistant director of VSU's landscape and grounds. "We have set a solid tree policy that provides clear guidance for planting, maintaining and removing trees and established a strong campus tree advisory committee. We realize that creating a legacy of sustainable trees has significant, positive effects on the environment and the campus."
The keynote speaker for the event is Mark McClellan, forester for the Georgia Forestry Commission's Sustainability Community Forestry Program. McClellan will address the importance of green infrastructure and how it contributes to the aesthetic value of a community. He will also present VSU with its inaugural Tree Campus USA award.
The ceremony will highlight past and future planting projects within the city and throughout campus. The VSU Horticulture Club and Keep Lowndes Valdosta Beautiful will have tables set up to inform students about how they can help improve and maintain city and campus green spaces. The event will conclude with a tree planting in the quad area.
According to ArborDay.org, the Tree Campus USA program recognizes campuses that "effectively manage their campus trees; develop connectivity with the community beyond campus borders to foster healthy, urban forests; and strive to engage their student population utilizing service learning opportunities center on campus, and community, forestry efforts." The standards for Tree Campus USA designation include having a campus tree advisory committee, a campus tree care plan, a service learning project, a tree program with dedicated annual expenditures and an annual observance of Arbor Day.
For more information about the Arbor Day Ceremony, contact Brett Ganas, assistant director of landscape and grounds, at (229) 333-5399.
General VSU Information
Office of Communications
Campus Address
Office of Communications Powell Hall West, Suite 1120
Mailing Address
1500 N. Patterson St.
Valdosta, GA 31698