February 13, 2013
13-41
Jessica Pope
Communications and Media Relations Coordinator
Saxophonist Chris Cline Returns to VSU for Saturday Afternoon Concert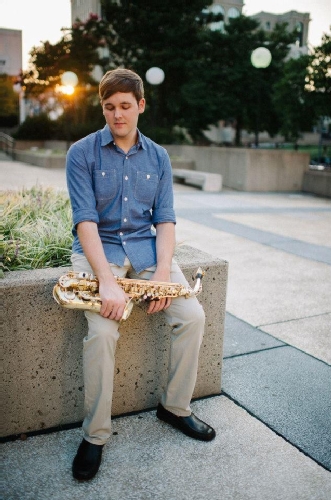 My grandmother gave me her saxophone when I first started out. That solidified my relationship with the instrument. I've always thought there was something provocative about the saxophone's shape, and it has, in my opinion, the most versatile of tones. It can be somber and melancholy in one phrase and [in] the next [it] can be as brilliant as a trumpet. I couldn't see myself doing anything else. Music gives me a sense of purpose, and I can't think of anything more fulfilling than sharing music with others. — Chris Cline, on why he plays the saxophone. He will be in concert at 3 p.m. on Saturday, Feb. 16, in VSU's Whitehead Auditorium.
VALDOSTA — Chris Cline grew up roughly 35 miles south of Atlanta, in the growing city of Hampton. When it came time for him to pursue a college education, the young saxophonist elected to attend Valdosta State University.
"I chose VSU because of its renowned music faculty, exceptional education program, and its beautiful campus," he said.
Cline graduated in May of 2010 with a Bachelor of Music in music education, having spent four years studying with Dr. Joren Cain, an associate professor of music at VSU who has played the saxophone for 25 years.
As a student at VSU, Cline was presented the university's Most Outstanding Musician Award in 2010, named first chair alto saxophone in the National Wind Ensemble in 2008, and awarded first place in the Valdosta Symphony Orchestra's 2007 Concerto Competition. He will return to his alma mater for a special guest concert at 3 p.m. on Saturday, Feb. 16, in Whitehead Auditorium.
"We have a fantastic opportunity to welcome back one of our top-tier graduates and enjoy a varied program of saxophone music on Saturday," Cain said.
Joined by Amy Neal on piano and harpsichord and Cain on alto saxophone, Cline will perform five pieces of music, utilizing both the alto and soprano saxophones. 
"The program includes a transcription of a Vivaldi concerto for oboe as well as some more contemporary sounds," Cain noted. "[Chris Cline] is a wonderfully expressive performer and should provide a great afternoon of music-making."
"I am very excited for the opportunity to return to the Whitehead stage," Cline said. "I hope this is the first of many reunions."
The most memorable part of the afternoon — for both Cline and the audience — will likely be when student and teacher come together for the final number.
"I am honored to be sharing the stage with my friend and mentor, Dr. Joren Cain," said Cline, who earned a Master of Music in saxophone performance in May of 2012 from the University of North Carolina School of the Arts and currently teaches other saxophone players at the institution's Community Music School. "It will be one of the highlights of my career. He has been the biggest influence in my saxophone career and the first person to believe in my abilities as a musician. He is an excellent teacher, musician, and an asset to the university."
Saturday's concert is free and open to the public.
Whitehead Auditorium is located on the first floor of the VSU Fine Arts Building, at the intersection of Brookwood Drive and Oak Street.  
Visit http://www.christopherclinesaxophone.com/ to learn more about Chris Cline or http://www.valdosta.edu/music/ to learn more about Valdosta State University's Department of Music.  
Newsroom
Office of Communications Powell Hall West, Suite 1120
Mailing Address
1500 N. Patterson St.
Valdosta, GA 31698
General VSU Information
Office of Communications