Dr. Shirley Hardin: Mentoring and Inspiring Students for 35 Years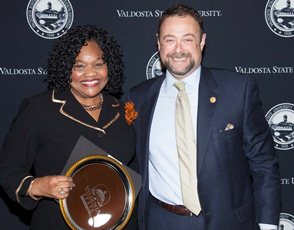 President William J. McKinney congratulates Dr. Shriley Hardin, director of African American Studies and professor of English, for 35 years of service to Valdosta State University.
VALDOSTA – Valdosta State University honored 381 faculty and staff during the annual recognition luncheon on Jan. 31. Employees were given a certificate and commemorative pin from President William J. McKinney for their various years of service.
With 35 years of service, Dr. Shirley Hardin, director of African American Studies and professor of English, has worked with five presidents and witnessed the transition to university status, along with countless other milestones in Valdosta State University's history.
Growing up in Early County, Hardin was one of seven children born to Freddie and Susie Hodge, parents who instilled in her and her siblings the importance of education, a lesson she has carried throughout her life and shared with hundreds of students that she has mentored and inspired at Valdosta State and in the community.
"I am convinced that the part of my job I enjoy the most is imparting knowledge to my students and learning from them as well," Hardin said. "As a teacher, I pray that I am able to look beyond an individual's apparent flaws, social handicaps and academic shortcomings, to envision the success that person can become."
Hardin's positive synergy has been the driving force in the success of the African American Studies program, which began in 1996 and currently is the largest minor on campus with 125 students.
"This program has afforded me the opportunity to see an interdisciplinary program take flight and soar to amazing heights," said Hardin, who is an active member of Delta Sigma Theta Sorority and past adviser for the Theta Tau chapter. "Work is under way to offer a Bachelor of Arts in African American Studies, a degree-granting program that will be second to none in the state and, eventually, in the nation."
When she remembers more than three decades of service to Valdosta State, Hardin said she can recall many memorable experiences and accomplishments.
One of her fondest memories includes the visit of Dr. Maya Angelou to Valdosta State in 1991. Regarded as one of the greatest voices in contemporary literature, Angelou's two-day visit had a tremendous impact on Hardin, who introduced her to an auditorium-packed audience.
"Hours before her talk, she had signed hundreds of her books for eager fans and avid readers, including [then president] Dr. Hugh Bailey," said Hardin. "One of the many things she shared that I have always remembered is, 'Never trust anyone who says I love you and does not love himself.' She further illustrated this message through a Ghanaian proverb, 'Never trust a naked man who offers you his only shirt.' In short, one must love him or herself first before he or she can love someone else. Angelou's visit to VSC was an experience of a lifetime."
Hardin's reflective insight and deep desire to serve others has greatly benefited many students, faculty and staff at Valdosta State.
In 2011, Hardin worked with former Valdosta State Director of Testing Mary Barron and her daughter, Lawanna Barron, to endow the Claydon Hayward Barron Memorial Scholarship. The scholarship encourages the highest educational goals possible and is awarded annually to a Valdosta State student who is working toward a minor in African American Studies and demonstrates academic excellence.
Helping students achieve educational success is one of Hardin's greatest missions and is at the center of her work on campus and in the community.
In 2005, Hardin led Valdosta State's African American Male Initiative HEROES Institute, which was sponsored by the University System of Georgia Board of Regents, to help increase the graduation rates of African American males from Georgia high schools and encourage post-secondary education.
Under Hardin's leadership, the four-year program achieved an 85 percent success rate with students completing high school, enrolling in college or the military or securing full-time employment.
The mother of three children, Keltrice Monique, Eric Christopher, and Jeremy Chase, Hardin gives credit for her success to her family and relationship with God. At the cornerstone of her family is her husband Moses Hardin, who retired last year from Valdosta State and is the person she describes as "the love of my life."
"My spirituality-- my relationship with God -- is what has kept me focused and productive all of these years at Valdosta State," Hardin said. "I truly believe in serving and honoring others."
If her hectic schedule on campus does not keep her busy enough, Hardin is an active member of the Morning Star Baptist Church, where she has, for many years, sung in the Mass Choir and taught the Young Adults Bible study and the Women's Ministry. She also chairs the Education and Scholarship Ministry at her church.
Hardin, who is passionate about creative writing, is currently writing a book of poetry titled "Love and Laugh" and a manuscript titled "Us Somethin' Special: Four Generations of Southern African American Women's Voices," which chronicles the lives of Hardin, her grandmother, mother and daughter.
Hardin said her work at Valdosta State, with her church, and in the community has helped her embrace two philosophies.
"First, I believe everyone born in this world is a marvelous creation and that there is something profound about every individual I have been privileged to meet," Hardin said. "Second, I embrace Dr. Angelou's mantra: 'I've learned that people will forget what you said, people will forget what you did, but people will never forget how you made them feel.'"
University Honors Employees for Years of Service
5 Years
Academic Affairs: Katharine Adams, Elvan Aktas, Mandi Bailey, Susan Bailey, Melissa Benton, Jimmy Bickerstaff, Jennifer Breneiser, Lantry Brockmeier, Wendy Butler, Carmen Byrd, Joren Cain, Emily Cantonwine, Richard Carpenter, Laura Carter, Tracy Collins, Penelope Croft, Attila Cseh, Bradley Cupp, Catherine Davis, Na Ding, Gina Doepker, Geoffrey Doepker, Frederick Downing, Brenda Dyal, John Faircloth, Bradley Finson, Timothy Fort, Barbara Gray, Theresa Grove, Deborah Hall, Archie Hatcher, Michael Holt III, Eric Howington, Arthur Jonas, Susan Jones, Jonathan Klotz, David Kuhlmeier, Sean Lennon, Pamela Lesane, Benjamin Li, Lucia Lu, Susan Miller, Joseph Mitchell, Jemal Mohammed-Awel, Paul Neal, Ofelia Nikolova, Karen Noll, Regina Ogden, Elizabeth Omiteru, Kyoung-Im Park, Ericka Parra, Sheila Peacock, David Pulliam, Amelia Reams, Michelle Ritter, Emily Rogers, John Rogers, David Ross, Carol Rossiter, Matthew Royle, Tolulope Salami, Cheryl Sault, Maura Schlairet, Cristobal Serran-Pagan, Stephen Shirlock, James Shrader, William Simmons, Kanan Simpson, Ernest Smith, Robin Smith, Karen Sodowsky, Ellen Stevens, Molly Stoltz, Terence Sullivan, Kathy Sundin, Nancy Swanson, Hasson Tavossi, Donald Thieme, Joshua Wallace, Rebecca Waters, Renee Whitmer, and Vesta Whisler
Advancement: Bobby Lacey, Bonnie Martin, and Kerry Morris
Athletics: Nicholas Gast, Gregory Guilliams, Todd Guilliams, and Shawn Reed
Finance and Administration: Angela Acosta, Sherri Adams, Kirby Alexander, Juan Arzayus, Justin Atchison, Wesley Babcock, Matthew Barfield, Heidi Bertsch, Cassandra Bethea, Michael Blanton, Billy Brown, Dexter Brown, Timothy Brunt, Timothy Bullock, Sandra Burgman, Carolyn Carr, Thomas Carter Jr., Nicole Flannery, Linda Giles, Barbara Graham, Vanessa Johnson, Louis Jones, Michael Knight, Gary Kuhlmann, Yvonne Leroy-Landers, Wilburn Leschber III, Matthew Maestas ,Raymond Sable, David Schmidt, Catherine Storey, Thomas Tarwater, Pamela Vickers, Janet Wade, David Westberry, Leon White, Courtney Wilkes, and Denise Woodruff
President's Office: Selenseia Holmes and Dondraie Seay
Student Affairs: Carla Jordan, Jessica Klotz, John Pullins, Erin Salmon, and Holly Wright

10 Years
Academic Affairs: Isik Akyollu-Denizman, Amy Aronson-Friedman, Michael Black, Julie Bowland, Eric Bradshaw, Blaine Browne, Maris Cato, Sabrina Daniels, Michael Davey, Can Denizman, Zulal Denaux, Teresa Doscher, Rebecca Gaskins, Nicole Gibson, Vickie Graham, Mark Groszos, Jennifer Grubbs, Scott Grubbs, Felicia Hilson, Linda Huffman, Christine James, Mohammed Karim, Wallace Koehler, Guifen Mao, Ellice Martin, Babacar Mboup, Christopher Meyers, Peggy Moch, Karen Morris, Selena Nawrocki, Kenneth Ott, James Pate, Timothy Reisenwitz, Deborah Robson, Robert Seppala, Catherine Schaeffer, Michael Schmidt, Luther Smith, Maria Springfield, Cynthia Tandy, James Taw, Blanche Thomas, Paul Vincent, Brian Ward, Leonard Weld, Jane Whitehead, Marty Williams, Helen Wishart, and Zhiguang Xu
Finance and Administration: Jocelyn Best, Shauna Branch, Dorothy Branham, Jed Brogdon, Ronald Butler, Yolanda Calhoun, Jennifer Crane, Harry Crumley, Bobby Flowers, Michael Fontaine, Marcus Frazier, Anthony Rolls, Freda Wade, Jennifer White, Amanda Williams, and Charles Williamson
President's Office: Laverne Gaskins
Student Affairs: Carolyn Griffin

15 Years
Academic Affairs: Shirley Andrews, Frank Barnas, Isaac Barton, Michael Baun, Mark Blackmore, Michael Capece, LaGary Carter, Catherine Christie, Lynn Corbin, Brenda Dixey, Michael Doscher, John Elder, Brian Gerber, Sanjay Gupta, James Hornsby, Lori Howard, Charles Johnson, Charles Kicey, James LaPlant, Michael Meacham, Mimi McGahee, Danny McKee, Paula McNeill, Catherine Oglesby, Suzannah Patterson, Richard Peterman, Robert Pugh, James Reffel, Julia Reffel, Matthew Richard, Andrea Robinson, Deborah Robinson, Karin Roland, Okete Shiroya, Gerald Siegrist, Theresa Thompson, Donald Trouille,Jeffrey Vasseur, Sherelyn Wade, and Susan Wehling
Advancement: Karen Johnson
Athletics: Russell Hoff
Finance and Administration: Richard Bass, Anthony Bryant, Steve Cline, Angela Culbreth, Robert Culbreth, Mary Edwards, Ann Farmer, Jill Ferrell, Shannon McGee, Rebecca Murphy, Carolyn Nelson, Thomas Parnell, William Postel, Joan Reaves, Kathy Rogers, Latissua Scruggs, Deborah Sharpe, Rosezella Ward, Keith Washington, Terri Wildes, Catherine Wills, and Ramona Wing
Student Affairs: Andrea Butler, Richard Hammond, and Kimberly Tanner

20 Years
Academic Affairs: Stanley Andrews, David Buehrer, John Gaston, Jane Kinney, Andreas Lazari, William Loughry, Nina Lutz, Joseph Newton, Beverley Richardson-Blake, Gabriele Stellmacher, Steven Taylor, Cheri Tillman, Larry Wiley, Ellen Wiley, and Teresa Williams
Advancement: Sage Archer
Athletics: Debbie Wisenbaker
Finance and Administration: Daniel Coody, Ralph Niehanke, and Oscar Wynne
President's Office: Karla Hull, Herb Reinhard, and Maggie Viverette
Student Affairs: Joyce Gates and Kevin Taylor

25 Years
Academic Affairs: Bradley Bergstrom, Edward Chatelain, Sherrida Crawford, Sudhir Goel, Phyllis Holland, Michael Holland, Ashok Kumar, Kathleen Lowney, Ginger Macheski, Lawrence Scully, and Raymond Young 
Finance and Administration: Willie Bacon, Michael Bauer, Kenneth Daniels, and Margaret Powers
Student Affairs: Wanda Stracener and Brenda Wynne

30 Years
Academic Affairs: John Barbas, Patricia Bezona, Martha Leake, Carol Mikkelsen, William Muntz,  Karen Shepard, and Jacqueline Wheeler
Advancement: Philip Allen
Athletics: John Hansen
Finance and Administration: Mike Hamm
Student Affairs: Raymond Andrews

35 Years
Academic Affairs: Shirley Hardin
---
Valdosta State University's 2013-2019 Strategic Plan represents a renewal of energy and commitment to the foundational principles for comprehensive institutions.
Implementation of the plan's five goals, along with their accompanying objectives and strategies, supports VSU's institutional mission and the University System of Georgia's mission for comprehensive universities.
The story above demonstrates VSU's commitment to meeting the following goals:
Goal 1: Recruit, retain, and graduate a quality, diverse student population and prepare students for roles as leaders in a global society.
Goal 3: Promote student, employee, alumni, retiree, and community engagement in our mission.
Goal 4: Foster an environment of creativity and scholarship.
Goal 5: Develop and enhance Valdosta State's human and physical resources.
Visit http://www.valdosta.edu/administration/planning/strategic-plan.php to learn more.
Newsroom
Office of Communications Powell Hall West, Suite 1120
Mailing Address
1500 N. Patterson St.
Valdosta, GA 31698
General VSU Information
Office of Communications