VSU's Air Force ROTC Grooms Tomorrow's Veterans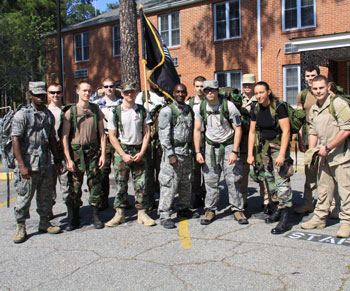 Cadets from Valdosta State University's Air Force ROTC Detachment 172 prepare for its 2012 local Bataan Memorial Death March. Det. 172 currently has a corps of 102 cadets at VSU, with 13 cadets to be commissioned this academic year.
VALDOSTA - As the country gathers this month to honor the veterans who have serve the nation, Valdosta State University's Air Force ROTC Detachment 172 continues its mission of developing quality leaders for the Air Force.
Det. 172 currently has a corps of 102 cadets at VSU, with 13 cadets to be commissioned this academic year.
"Our standards exceed Air Force standards," said Lt. Col. Marsha L. Aleem, commander of Det. 172 . "Entry into the program is very selective and applicants who are accepted as cadets have met specific academic qualifications, height and weight standards, and have the high moral character desired of cadets.  All new cadets undergo a core values interview and we determine whether or not they are ready to live up to the AF core values of 'integrity first, service before self, and excellence in all we do.'"
Aleem added that the program's focus is always on quality and never quantity.
During their time at VSU, AFROTC cadets have to successfully complete field training after their sophomore year. Field training is a 28-day summer leadership program held at Maxwell AFB in Alabama.
"After returning from field training, cadets enter the professional officer course and become leaders within the detachment," said Aleem. "The expectations for them are higher and the challenges become even more demanding.  If they exceed our expectations and we determine they are ready to lead on active duty, they receive their commission as a Second Lieutenant. Cadets understand they may be released at any time for not meeting expectations."
Cadets also remain heavily involved in campus and community activities. They can be found volunteering and working with the AFROTC Freshmen Learning Community, Office of Adult and Military Programs and the Office of the Registrar. Cadets also provide flag detail during home football games, provide honor guard to present the colors during special events and help recruit new cadets from several academic programs.
Recently accomplishments of VSU's AFROTC Det. 172 include:
- Aleem recently served as the director of operations for Field Training Encampment Two staff at Maxwell AFB. She was responsible for the training of over 1,500 cadets and led a team of 40 personnel.  She was third in command of a staff of 53 officer, enlisted and cadet personnel.
- First Lt. Trenady Offermann, Det 172's operations flight officer, was selected to serve as a member of the Field Training Encampment One staff at Maxwell AFB as a flight training officer.  Within his first month, he was selected among 20 other officers as the Flight Training Officer of the Month. He was responsible for training 80 cadets.
- Second Lt. Ira B. Collier, who commissioned in May 2012, was selected in July for the USAF Language Enabled Airman Program (LEAP).  He competed while a cadet against active duty officers, enlisted members and other AFROTC cadets, and was one of 101 selected for this program. The LEAP program is designed to develop a core group of airmen's foreign language skills so they may be called on to accomplish missions requiring expertise in their language of study.
- Second Lt. Robert D. Hudspeth earned the Daedalians Scholarship Award, which provides $2,000 for support towards a master's degree
- Technical Sergeant Ceressa Rice earned the Knowledge Operations NCO of the Year Award for AFROTC Southeast Region.
- Cadet Candace Brown was selected by the Georgia Air Force Association as the Outstanding Air Force ROTC Cadet of the Year.
- Cadet Anne Herrmann earned the Top Gun Award while attending field. This identifies her as a Distinguished Graduate Award recipient as well.
- Cadets Dustin Prosser and Grant Atwell earned Distinguished Graduate Awards this summer while at field training. Prosser was also selected as a cadet training assistant.
- Cadet Johnathan Murtaugh earned the Superior Performer Award at field training.
- Cadet Ashley Valerio will serve as a cadet training assistant during the next field training.
For more information about the AFROTC Det. 172, call (229) 333-5954 or visit http://www.valdosta.edu/afrotc/ .
General VSU Information
Office of Communications
Campus Address
Office of Communications Powell Hall West, Suite 1120
Mailing Address
1500 N. Patterson St.
Valdosta, GA 31698