VSU Honors Fallen Soldiers with National Roll Call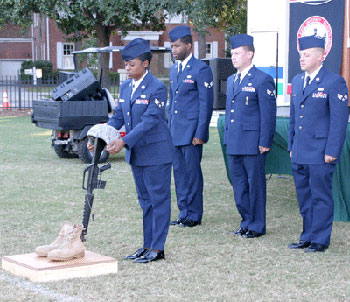 VALDOSTA - For a second year, Valdosta State University has joined the National Roll Call project to honor American service men and women by hosting simultaneous ceremonies across the nation. The Remembrance Day National Roll Call event, sponsored by VSU's chapter of Student Veterans of America (VSU Vets), will start at 8 a.m. Monday, Nov. 12 in front of the Student Union.
Throughout the day, the names of more than 6,600 men and women who lost their lives in service to America in Operation Enduring Freedom and Operation Iraqi Freedom in the past decade will be called. VSU President William McKinney will open the ceremony and then the reading of the names will begin. The process is expected to last about seven hours.
"I was so moved by the event last year, that I felt wemust do it again this year, " said Mark A. Smith, retired Air Force master sergeant, military/veteran liaison and president of VSU Vets. "It's an honor to pay tribute to those who paid the ultimate price for our freedom. The National Remembrance Day Roll Call is a way for our student veterans to come together with faculty, staff and other students, as well as our local community, andhonor the fallen. One of the special things we did last year was to allow the airman from Moody AFB to read the names of those from their units who had died. We plan to do the same this year."
The Remembrance Day National Roll Call is sponsored nationally by the Veterans Knowledge Community of NASPA Student Affairs Administrators in Higher Education. NASPA is a 12,000-member association for the advancement, health and sustainability of the student affairs professionals. The Veterans Knowledge Community mission is to advocate for best practices to help student veterans transition to college and succeed.
"We want to rally campus communities across the nation to send a message to the troops currently serving - that we, as a national body of students, have not forgotten their sacrifices, or those of their fallen brethren," said Lt. Col. (Ret) Brett Morris, the National Roll Call coordinator.
For more information about the event, contact Smith at (229) 253-2873 or marksmith@valdosta.edu. More information about the National Roll Call can be found at va.eku.edu/rollcall.
Newsroom
Office of Communications Powell Hall West, Suite 1120
Mailing Address
1500 N. Patterson St.
Valdosta, GA 31698
General VSU Information
Office of Communications