VSU Names Five Distinguished Alumni of the Year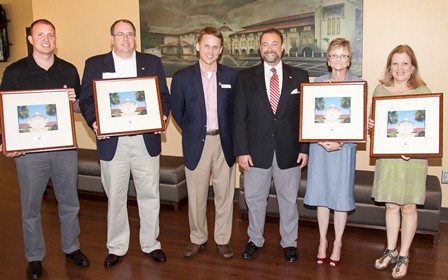 VSU Alumni Association 2012 Distinguished Alumni of the Year were honored on Oct. 20 during homecoming activities, pictured, left, Kenneth A. Glover, Donnie Warren, VSU Alumni Association President Greg Voyles, VSU President William J. McKinney, Judith Wright Lott, and Lisa Robbins, who was representing her husband, John C. Robbins, not pictured Lucas Johnson.
VALDOSTA – The Valdosta State University Alumni Association announced five 2012 Distinguished Alumni of the Year recipients during homecoming activities on Oct. 20. This year's recipients are Kenneth A. Glover, Lucas Johnson, Dr. Judy Wright Lott, John C. Robbins and Donnie Warren.
The Dewar College of Education selected Kenneth A. Glover, from Jacksonville, Fla. Following his graduation from VSU, Glover went on to receive a master's degree in Exercise Physiology from Florida State University. He was the coordinator of cardiopulmonary rehabilitation at Tift Regional Medical Center before accepting a position with CSX Transportation. His task was to develop and expand corporate health promotion programming. Glover recently obtained his MBA from the University of Miami and was promoted to a senior management position at corporate headquarters in Jacksonville, Fla. Glover has also donated supplies and equipment to VSU's human performance lab.
Lucas Johnson from Atlanta, Ga., was selected by the College of the Arts. Since receiving his Bachelor of Fine Arts degree in 2000, Johnson has been an advocate for VSU's Mass Media program and students by donating his time, expertise, and assistance in a number of ways. As a director at WSB-TV in Atlanta, Johnson has secured more than $100,000 worth of donated equipment for the VSU Mass Media Department. He has provided numerous tours for VSU students through WSB studios and helped students obtain internships and positions at the station, as well as serving as an industry expert in three textbooks written by VSU Mass Media faculty.
Dr. Judy Wright Lott, from Macon, Ga., was selected by the College of Nursing. Lott has extensive experience in nursing practice, education and research. She received her Bachelor of Science (BSN) in Nursing from VSU, a master's degree from Troy State University, and a doctorate from the University of Alabama at Birmingham. She has held faculty positions at Albany State College, University of Florida and University of Cincinnati and served as dean and professor of the Baylor University Louise Herrington School of Nursing. Lott is currently the founding dean of the new BSN program at Wesleyan College. Lott is a nationally recognized expert in skin science and served on a Skin Science Project Team at Baylor, which oversaw a national research project on newborn skin care practices. She is an editor and author of several textbooks, journals and articles.
The College of Arts and Sciences selected John C. Robbins, a nationally known criminal defense lawyer from Birmingham, Ala. He graduated from VSU in 1982 and received his Juris Doctorate from Samford University in 1987. Robbins has 25 years of successful law practice in Alabama, including several high profile cases that have received national and international attention. His work has been reported in the New York Times, BBC, CNN and PBS. As reported by the Cumberland Law School at Samford University in Birmingham, Robbins has received universal praise for professionalism and competence displayed throughout the difficult trials associated with the 16th Street Baptist Church bombing.
The Langdale College of Business Administration selected Donnie Warren, from Valdosta. Warren has been a long-time supporter and friend to the Langdale College of Business Administration. Warren received his Bachelor of Business Administration in accounting from the Langdale College in 1993. He currently serves as a member of the Business Advisory Board for the Langdale College and has served on the VSU Foundation board of trustees in the past. As a vice president at Langdale Industries, Warren has played a huge role in securing numerous gifts for many areas of VSU. Warren is a member of the Valdosta Rotary Club, Georgia Society of CPAs, Georgia Forestry Association, CPAs and Lowndes County Historical Society.
General VSU Information
Office of Communications
Campus Address
Office of Communications Powell Hall West, Suite 1120
Mailing Address
1500 N. Patterson St.
Valdosta, GA 31698