University Attorney Receives Fulbright Grant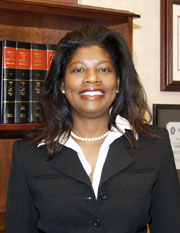 VALDOSTA --Valdosta State's University Attorney, Laverne Lewis Gaskins, has been selected for a Fulbright grant. Gaskins, who also teaches in VSU's Political Science Department, will lecture on American jurisprudence at Nipissing University in Canada during the month of November.

Gaskins, who was awarded a Fulbright grant in 2010 to travel to Hungary, is one of more than 400 U.S. faculty and professionals selected to travel abroad this year through the Fulbright Specialists Program.
The Fulbright Specialists Program, created in 2000 to complement the traditional Fulbright Scholar Program, provides opportunities to prominent U.S. faculty and professionals to support curricular and faculty development and institutional planning at postsecondary academic institutions around the world.

"I am honored to represent VSU as a Fulbright recipient," Gaskins said. "In addition to providing lectures, arrangements have been made for me to visit First Nations Chiefs, and I am looking forward to that opportunity and learning more about the country. "

The Fulbright Program, America's flagship international educational exchange activity, is sponsored by the U.S. Department of State Bureau of Educational and Cultural Affairs. During its 60 years of existence, thousands of U.S. faculty and professionals have taught, studied or conducted research abroad, and thousands of their counterparts from other countries have engaged in similar activities throughout the U.S.
Recipients of Fulbright Scholar awards are selected on the basis of academic or professional achievement.

In addition to her duties as in-house counsel, Gaskins is actively involved in the State Bar of Georgia having served on its Board of Governors, and was recently appointed to the Formal Advisory Opinion Board. She is also a member of the Valdosta Rotary, and Florida State University's College of Law Alumni Board. She serves on the Editorial Board of The Journal of College and University Law, an Associate Editor of the National Bar Association Magazine, and is a former president of Valdosta's branch of the American Association of University Women. Gaskins has written several articles that have appeared in national and state publications and she was a 2008 Nominee for Woman of the Year sponsored by the Valdosta Junior Woman's Club. In 2009, she received the State Bar of Georgia's Justice Benham's Award for Community Service.
General VSU Information
Office of Communications
Campus Address
Office of Communications Powell Hall West, Suite 1120
Mailing Address
1500 N. Patterson St.
Valdosta, GA 31698