Science Saturdays Series Begins Oct. 27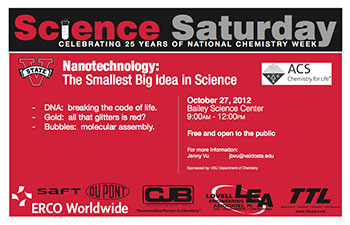 VALDOSTA - Valdosta State University's College of Arts and Sciences has planned a variety of activities to excite young people about the world of science during its second annual Science Saturdays Series, slated to begin Oct. 27 from 9 a.m. to noon.

The Science Saturday program is part of the College of Arts and Sciences STEM (Science, Technology, Engineering and Mathematics) Initiative. The goal of the STEM initiative is to encourage students to major in STEM areas and help students succeed in those programs. The program puts science and math into a fun and entertaining context and allows students to see basic scientific principles in action.

The first Science Saturday was held Feb. 12, 2011 as an outreach event to commemorate the International Year of Chemistry. 

"The event turned out to be a huge success with approximately 200 students and their parents attending," said Dr. Gary Wood, professor and coordinator for the Center of Applied Research. "Based on comments from the parents, we expanded the program to all of the sciences. The main goal for us is to excite kids about science, keep them excited and possibly influence them to make it a career choice.

This year's series will begin with "Nanotechnology: The Smallest Big Idea in Science," hosted by the Department of Chemistry. Activities will include examination of DNA, liquid nitrogen and molecular assembly. This event will serve as the finale of events held in observance of National Chemistry Week.
Science Saturday sponsors include DuPont Crop Protection, Lovell Engineering Associates PC, Saft, TTL, CJB Industries and ERCO Worldwide. 

For more information about the upcoming Science Saturday, contact Jenny Vu at jbvu@valdosta.edu .
Newsroom
Office of Communications Powell Hall West, Suite 1120
Mailing Address
1500 N. Patterson St.
Valdosta, GA 31698
General VSU Information
Office of Communications