Ken Waldman Delivers Fiddling Poetry at VSU Oct. 2
September 24, 2012
12-255
Ken Waldman Delivers Fiddling Poetry at VSU Oct. 2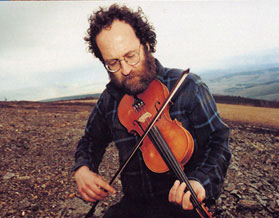 VALDOSTA -- Poet and fiddler Ken Waldman will perform at Valdosta State University on Tuesday, October 2, at 7:30 in the Magnolia Room 1 in the University Center.

Waldman, a former college professor, has published six poetry collections and released nine CDs that combine his Appalachian-style fiddle music with his original poetry. His poems have appeared in journals such as Beloit Poetry Journal, Quarterly West and Yankee. His music includes original and traditional tunes, which he performs solo and with accompanists.

Waldman tours throughout the United States, performing both as a solo artist and part of a larger troupe. He also leads writing workshops at colleges and universities, using his fiddle and writing exercises to offer a unique learning experience for students and faculty.

Waldman's visit is sponsored by VSU's Department of English and the Annette Howell Turner Center for the Arts. He will also perform at the Turner Center Sunday, Sept. 30, at 2 p.m.

For more information, contact the Department of English at (229) 333-5946. To learn more about Waldman, visit www.kenwaldman.com .

Newsroom
Office of Communications Powell Hall West, Suite 1120
Mailing Address
1500 N. Patterson St.
Valdosta, GA 31698
General VSU Information
Office of Communications