VSO Kicks Off 23rd Season with Passion
September 11, 2012
12-237
Jessica Pope
Communications and Media Relations Coordinator
VSO Kicks Off 23rd Season with Passion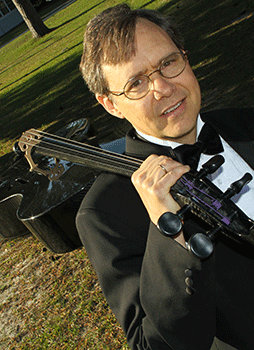 VALDOSTA -- The Valdosta Symphony Orchestra will celebrate 23 years of "sublime music" as well as honor "the passion of the human spirit" with its opening concert of the 2012-2013 season -- Passion -- on Saturday, Sept. 15. The concert will begin at 8 p.m. in Valdosta State University's Whitehead Auditorium.

The evening will begin with the VSO performing Shchedrin's "Symphonic Fanfares," which commemorates the Russian Revolution, said Dr. Howard Hsu, music director. This will be followed by Shostakovich's Cello Concerto No. 1 in E-flat Major, Op. 107, featuring VSO principal cellist Steven Taylor, who studied at The Juilliard School and teaches at Valdosta State, as soloist.

"He is a fantastic musician and wonderful to work with. The Shostakovich," Hsu said, "was dedicated to Rostropovich, one of the greatest cellists of the 20th century, so we will hear a very challenging work. It will be a perfect showcase for Steven's talents."

The Shostakovich piece, Hsu explained, captures the inner strength needed by the composer to survive under an oppressive regime.

The VSO will close the evening with Tchaikovsky's Symphony No. 6 in B minor, Op. 74 "Pathétique," which Hsu described as "incredibly expressive and emotional." It is often regarded as the composer's "poignant and fervent farewell to life."

Individual tickets for the concert are $25 each. Reservations are required. Season ticket packages are available and include seating at five VSO concerts.

"For many people, the boundaries of musical culture in Georgia are believed to be in the areas circumscribed by Atlanta, Augusta, Macon, and Columbus. We in South Georgia, however, know better," shared Dr. Malcolm F. Rainey, chairman of the VSO Board. "For more than 22 years, the Valdosta Symphony Orchestra has … brought an exciting series of vivid musical experiences to us … elevated our knowledge and literacy of a wide range of orchestra literature. Without the cultural enrichment provided by this orchestra, our lives in the greater Valdosta community would surely be deprived of great joy and harmonic artistry."

In a time when many communities are losing their orchestras, Hsu said Valdosta is fortunate to have an orchestra of quality like the VSO.

"The level of support from this community for the VSO is incredibly gratifying," he added. "We have a special situation here, and our guest artists from out of town have frequently praised the level of appreciation that they feel from the Valdosta community."

Saturday's concert is sponsored by First Federal Savings of Valdosta.

A special youth concert featuring Taylor on cello will be held at 10 a.m. on Friday, Sept. 14. It is sponsored by the City of Valdosta.

Whitehead Auditorium is located on the first floor of VSU's Fine Arts Building, on the corner of Brookwood Drive and Oak Street.

Visit www.valdostasymphony.org or call VSU's College of Arts Outreach Office at (229) 333-2150 to reserve tickets or learn more.

Visit www.valdosta.edu/music/bios/taylor.shtml to read more about the featured soloist, Steven Taylor.

The Downtown Symphony Club, a social group for young and young-at-heart music lovers and professionals, will meet prior to the concert for drinks and a three-course dinner at 5 p.m. at 306 North in Downtown Valdosta. Contact Dr. Shannon Lowe, an instructor of bassoon, music theory, and chamber ensembles at Valdosta State, at downtownsymphonyclub@gmail.com. Club members receive a 20 percent discount on single tickets, exclusive dinner deals on concert nights, the chance to meet and socialize after the concert with the soloist, conductor, and orchestra musicians, and more.
Newsroom
Office of Communications Powell Hall West, Suite 1120
Mailing Address
1500 N. Patterson St.
Valdosta, GA 31698
General VSU Information
Office of Communications