VSU's 'Dr. D.' Asks Everyone to Join the Movement and Read
September 26, 2012
12-257
Jessica Pope
Communications and Media Relations Coordinator
VSU's 'Dr. D.' Asks Everyone to Join the Movement and Read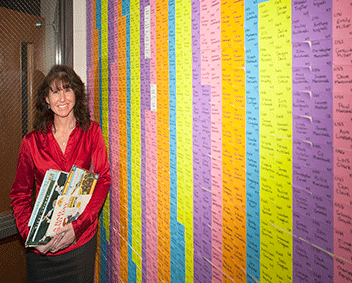 Voluntary reading involves personal choice, reading widely from a variety of sources, and choosing what one reads. Aliterates -- people who have the ability to read but choose not to -- miss just as much as those who cannot read at all. Individuals read to live life to its fullest, to earn a living, to understand what is going on in the world, and to benefit from the accumulated knowledge of civilization. Even the benefits of democracy, and the capacity to govern ourselves successfully, depend on reading. -- American Association of School Librarians.

VALDOSTA -- Dr. Gina Doepker, director of the Ruby R. Sullivan Literacy Center at Valdosta State University, recently kicked off a campaign -- Dr. D., I READ! -- to promote reading. The boys and girls who receive services at the center inspired her.

"Some of them only think that the purpose of reading is to read their Accelerated Reader (AR) books three times and then take a test," she said. "Reading is not fun for them. I want to show them that reading can be so much more. Reading can be fun. Reading can be meaningful. Reading can be relevant. There are so many people who read many different things -- emails, text messages, comic strips, cookbooks, magazines, newspapers, books, etc. -- and for a variety of reasons and purposes. I wanted to do something grand that would show the children, not just tell them, that they are readers, too."

Doepker hopes to encourage at least 10,000 people to join the movement by May 2013. She began collecting names this past May and, as of mid-September, has more than 4,800 people committed to reading for pleasure and proving to the children at the literacy center that reading can be fun.

Every time someone commits to the Dr. D. I READ! campaign, Doepker writes that person's name on a sticky note and places it on the walls in the I READ! Hall of Fame, which is located outside the Ruby R. Sullivan Literacy Center, on the first floor of the James L. and Dorothy H. Dewar College of Education. Scott Speed with the National Association for Stock Car Auto Racing (NASCAR) and Michael Leavine with the Automobile Racing Club of America (ARCA) are two celebrities who have made the commitment to read.

Doepker also has participants from across the nation and around the world.

"My father-in-law taught in New Zealand for a semester and told them about my campaign," she said. "He was also in China this past summer working on a project and told them about the campaign as well. I have a former colleague teaching in Texas, and he got his students to sign up. I have relatives all across the United States who got their friends and other family members signed up. It has been really amazing."

The Dr. D. I READ! campaign is open to all ages. To sign up, Doepker only needs the interested person's name and hometown and their commitment to make time to read for pleasure.

"Every time I receive names for the I READ! Hall of Fame, it really gets me pumped up because these names represent real readers," she said. "As the … mural grows, more people are asking about what I am doing and why, and then they sign up, too. They may not realize, but they are helping these children get excited about reading. A lot of the children have signed up as well, and I love to watch their smiles grow as they try and find their names. They are readers."

The Ruby R. Sullivan Literacy Center's mission is to be an integrated system of care for the children and families of Valdosta and surrounding areas with a focus on building children's literacy skills, motivation, and confidence. The center serves children in grades first through fifth, but programs are being developed for middle school and high school students, as well as prekindergarten and kindergarten students, said Doepker.

The Ruby R. Sullivan Literacy Center offers several programs designed to help children in the elementary grades build literacy skills, gain confidence, and be more motivated to want to read for both pleasure and study:

• Literacy Education Assessment Program (LEAP): This is a literacy tutoring program that involves VSU pre-service teachers assessing the community children's current literacy skills, developing specific literacy goals, providing one-on-one research-based literacy instruction and intervention, and monitoring the children's literacy development progress.

• Blazing Through Books Program: This feeder program for LEAP pairs VSU athletes and students with community children in one-on-one and small group literacy skill-building activities, such as reading, writing, listening, and speaking.

• Multidisciplinary Child Advocacy Team (M-CAT): Through this program, any and all departments at VSU, as well as interested community organizations, provide identified services for the community children and families, such as comprehensive assessments, health screenings, family support and therapy, content area tutoring, shadowing opportunities, adult literacy, and much more.

• Dear Blazer Buddy: This is a pen pal program that pairs community children with VSU athletes and students. It is designed to get the children involved in a reading and writing activity that is fun and motivating.

• Blazer Books Television Series: This is a developing program that gives all VSU faculty, staff, and students, as well as area public schools, organizations, and others the opportunity to read and/or recommend their favorite childhood book on camera.

VSU has had some sort of literacy outreach initiative since 1989.

According to the National Information Center for Children and Youth with Disabilities, approximately 10 million children in the United States have difficulty reading. Of these children, 10 to 15 percent eventually drop out of high school and only two percent complete a four-year college degree.

Contact Dr. Gina Doepker at (229) 333-5625 or gmdoepker@valdosta.edu or email the Ruby R. Sullivan Literacy Center at slc@valdosta.edu for more information.
Newsroom
Office of Communications Powell Hall West, Suite 1120
Mailing Address
1500 N. Patterson St.
Valdosta, GA 31698
General VSU Information
Office of Communications