VSU's Bowland, Gheesling Featured in Radium Springs Art Exhibit
September 10, 2012
12-236
Jessica Pope
Communications and Media Relations Coordinator
VSU's Bowland, Gheesling Featured in Radium Springs Art Exhibit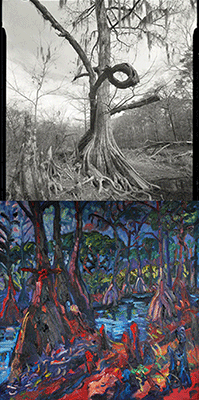 VALDOSTA -- Valdosta State University's Julie Bowland and Dominick Gheesling are two of the artists featured in the Albany Area Arts Council's Skywater 2012, a visual exploration of Radium Springs. She has six pieces in the exhibit; he has 10.

Other selected artists are Charles Williams and Scott Marini, associate professors of art at Albany State University, and Todd Bertolaet, professor of art at Florida A&M University.

How the five artists arrived at Skywater 2012 -- which runs through Sept. 28 and features photographs, sculptures, paintings, pastel drawings, and more -- is a lesson in connectivity.

"The participating artists were selected or became loosely confederated through a very organic process," said Gheesling, assistant professor of art at VSU. "I think I am about as close as we get to a nucleus."

While pursuing a Bachelor of Science in studio art at Florida State University, and cooperatively at Florida A&M University, Gheesling met Bertolaet, who became his friend and mentor.

"I enrolled in the majority of my photography courses through his department at Florida A&M University," said Gheesling, who graduated magna cum laude in 2002 from FSU and went on to complete a Master of Fine Arts in studio art at FSU in 2006. "We continue to explore and document the region together."

Gheesling and Bowland, professor of art at VSU, have known of each other since she taught at Tallahassee Community College, where he mastered his first photography classes, graduating with an Associate of Arts in 1999.

"She is certainly partly responsible for my position at VSU, and she is my friend and colleague, and the two of us have been working in the field together creating art in our own media for the past two years," he said.

Bowland and Bertolaet know each other from Tallahassee and have long admired each other's work, he added.

Williams and Gheesling were roommates at FSU and have been friends ever since.

"After receiving permission and access to Radium Springs," Gheesling said, "I invited Todd (Bertolaet), Julie (Bowland), and (Charles) Chazz (Williams) to come explore with me, which is a fairly common experience amongst us."

Williams later introduced the group to his colleague, Marini.

"Scott (Marini) joined in with an interest in making sculptural pieces, and the idea of an exhibition was born and proposed to the Albany Area Arts Council by Chazz and Scott," Gheesling said.

Dominick Gheesling on Photographing Radium Springs

Gheesling was led to Radium Springs when, in the spring of 2011, he began working on a project photographing under water in the freshwater systems of North Florida. Learning of the Albany-based historic site and botanical garden, he sought and was granted unrestricted access to Radium Springs.

"Immediately, I had grand visions of lush, color photographs printed at a grand scale depicting the environment inside the spring and the run to the Flint River," he said. "My expectations and reality parted ways."

On Jan. 8, 2012, Gheesling made his first dive into Radium Springs and the run to the Flint River, known as Skywater Creek.

"The spring was no longer flowing, and what water was in the vent was a mixture from the last time the Flint filled the spring and some spring water," he said. "These are far from ideal conditions for making underwater photographs. There was life in the basin, Gar, a few Bream and Speckled Perch that were trapped, no longer able to return to the river."

Gheesling returned again in March, enjoying the rare opportunity of swimming with a mother Bowfin and her young. By June, the water had simply disappeared.

"So, no lush, color photographs printed at a grand scale," he added. "What I did find and attempted to portray through my terrestrial photographs was a beautiful environment that is the result of and evokes a tremendous passage of time through both the natural elements and the man-made structures that have been added. Many generations, human and other, have left their imprint on this space, and it can be felt."

Julie Bowland on Painting Radium Springs

As a plein air painter, Bowland noted that she was excited when Gheesling invited her to paint at Radium Springs. She titled her first effort of making art on the site "Radium Springs Run."

"Sitting by the spring run, Skywater Creek, amongst giant cypress trees in the coolness of a December afternoon, I was engulfed into the beauty around me," she said. "I painted the color palette cool greens, blues, and violets for the creek and far shore and electric red-orange-pink for the foreground forms of the cypresses, the brightness hinting at radioactivity. The mark-making is free and spontaneous, the way I like to paint or draw in the wild. The pastel is a depiction of the peace and energy that I felt at the site."

Bowland returned to the same location, again painting at the feet of the big cypress trees, this time with oil paints. The next time, she canoed down the spring run. By her fourth visit, the water was beginning to disappear.

"… nothing could have prepared me for the disturbing sight that greeted us when we slipped our canoes on shore…," she said. "A barren field of bone-like lime rock boulders and river detritus tumbled about the twin gaping holes of the bridge arches. There was no water coming out of the spring and no water flowing back into the creek from the river. The surrounding trees seemed to clamor and shake. What a dark, foreboding, and ominous site it was."

Just like her fellow artists, she asked, "What the heck happened to the water?"

Radium Springs

Considered one of the Seven Natural Wonders of Georgia, Radium Springs, known as Skywater by the Native Americans who once called the area home, was historically considered the largest natural spring in the state. In its heyday, the waters flowed at about 70,000 gallons per minute from the aquifer and underwater cave system into the Flint River and were a consistent 68 degrees. The discovery of radium traces in the water in the 1920s led to the development of the area that included a casino, a hotel, bathhouses, cottages, riding and walking trails, and a golf course.

Radium Springs closed in 1939 due to the Great Depression but was later reopened and closed and reopened several times, having been acquired by a group of local investors in the 1940s.

Radium Springs remained a popular swimming destination for Albany area residents until the flood of 1994, which damaged the casino and other historic structures. The casino was demolished in 2003 following additional flooding in 1998. State and local governments acquired the property and the remains of the spring area, and Radium Springs Gardens opened in 2010.

Bowland, Gheesling, and others hope for the return of Skywater and the opportunity to document that chapter of Radium Springs' story as well.

Exhibit Information

Skywater 2012 will run through Sept. 28 at the Albany Area Arts Council gallery, located at 215 N. Jackson St. in Albany. After that, the exhibit will move to Albany State University's gallery.

The Albany Area Arts Council is open from 10 a.m. to 4 p.m. Monday through Friday and can be reached by calling (229) 439-278. Admission is free of charge.

Contact Julie Bowland at (229) 333-5833 or jabowlan@valdosta.edu or J. Dominick Gheesling at (229) 259-2074 or jdgheesling@valdosta.edu for more information.

On the Web:
www.albanyartscouncil.org
www.exploresouthernhistory.com/radiumsprings.html

Visit http://www.flickr.com/photos/valdostastate/sets/72157631514292392/ to view more photos.
Newsroom
Office of Communications Powell Hall West, Suite 1120
Mailing Address
1500 N. Patterson St.
Valdosta, GA 31698
General VSU Information
Office of Communications