P.D.Q. Bach Performance Entertains, Raises Funds for Scholarships
September 20, 2012
12-251
Jessica Pope
Communications and Media Relations Coordinator
P.D.Q. Bach Performance Entertains, Raises Funds for Scholarships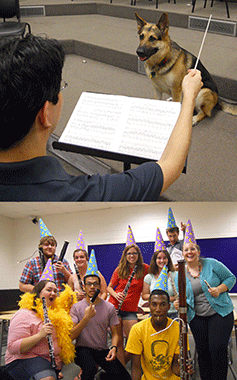 VALDOSTA -- To raise funds for much-needed student scholarships, Valdosta State University's Department of Music will present a humorous program featuring the works of P.D.Q. Bach at 3 p.m. on Sunday, Sept. 23, in Whitehead Auditorium. Tickets are $10; university students are admitted free of charge with valid identification.

"P.D.Q. Bach is the brainchild and creation of Julliard professor Dr. Peter Schickele, widely acknowledged as one of the greatest musical satirists of the 20th century," according to information provided by Dr. Susan J. Eischeid, professor of oboe at VSU. "Using his considerable musical skills, Schickele 'unearthed' the decidedly spurious writings of a deservedly obscure and totally fictional lost son of the great Baroque composer Joann Sebastian Bach. In 1965, he premiered some of P.D.Q.'s oeuvre at a Town Hall concert in New York City and became an overnight sensation. Since then, Schickele has recorded 11 albums of the fabled genius' works, sold thousands of scores, and seen Random House publish 11 editions of The Definitive Biography of P.D.Q. Bach. From 1990 to1993, P.D.Q. Bach's recordings won four consecutive Grammy Awards in the category of Best Comedy Album. This all adds up to what Chicago Sun-Times critic Robert Marsh refers to as 'the greatest comedy in music act before the public today.'"

Performing alongside VSU faculty and students from the Department of Music and across the university, Sunday's performance marks the P.D.Q. Bach debut of special guest artists Nancy Warren, Bob Goddard, Hudson Hardesty Hsu, and Dean Poling. Assorted canines will be featured in a rare performance of P.D.Q.'s "Wachet Arf" -- loosely based on Johann Sebastian Bach's cantata "Wachet Auf" -- with Kirby Matos North, a castrato soloist.

Known for what Schickele has referred to as "manic plagiarism," P.D.Q. Bach's music typically incorporates comical rearrangements of well-known works by composers from such musical genres as Baroque, Romantic, modern, country, and rap. He uses instruments not typically found in orchestras, like bagpipes, the slide whistle, kazoo, hardart, tromboon, and others, and unusual methods of playing them. He even uses balloons, bicycles, and foghorns to make music. He asks his vocalists to cough, snore, laugh, yell, and, of course, sing.

Eischeid said the event promises to be "comic and lots of fun."

Whitehead Auditorium is located on the first floor of the Fine Arts Building, which is located at the intersection of Brookwood Drive and Patterson Street.
Newsroom
Office of Communications Powell Hall West, Suite 1120
Mailing Address
1500 N. Patterson St.
Valdosta, GA 31698
General VSU Information
Office of Communications