Leavitt Mixes the Classics with Contemporary Sounds at VSU
August 23, 2012
12-220
Jessica R. Pope Communications Specialist
Leavitt Mixes the Classics with Contemporary Sounds at VSU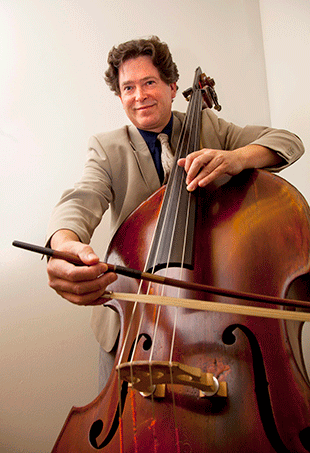 VALDOSTA -- Valdosta State University's Department of Music will host a faculty recital featuring Dr. Tod Leavitt on contrabass at 7:30 p.m. on Monday, Aug. 27. The event is free of charge and open to the public.

Leavitt recently kicked off his fifth year of teaching at the university. He helps music students master the bass, jazz and classical music appreciation, chamber music, and jazz combo and enjoys watching them "become mature, professional, working musicians."

During his recital, Leavitt will play, as a soloist, Francois Rabbath's "Poucha Dass" and Bertram Turetzky's "Six Haiku Settings." He will be joined by bassoonist Dr. Shannon Lowe, who teaches bassoon, music theory, and chamber ensembles at VSU, on Wolfgang Amadeus Mozart's "Sonate in Bb major (kv 292)" and by pianist Dr. Lyle Indergaard, who has taught at the university for nearly two decades, on Ludwig van Beethoven's "Sonata in G major (opus 17)."

"A highlight is the last piece, Jon Deak's 'B.B. Wolf (an apologia),' which involves talking while playing the bass," said Leavitt, who enjoys the audience's reaction to his performances. "It is a humorous apologia where Mr. Wolf is defending his very existence."

When asked what led him to play the contrabass, Leavitt said that the instrument actually chose him.

"I had moved to a new city my junior year of high school and wanted to play guitar in the jazz band," he shared. "The director already had two guitarists and told me that if I played electric bass I would not have to be in marching band. I immediately accepted. I auditioned at various universities but found no program for electric bass, so I became a non-major and studied the contrabass for a term and became a music major my second term. I made the orchestra spring term of my freshman year at Michigan State University."

Leavitt also plays piano and guitar and sings.

Monday's faculty recital will be held in Whitehead Auditorium, on the first floor of the university's Fine Arts Building, which is located at the intersection of Brookwood Drive and Oak Street.

Contact Dr. Tod Leavitt at tjleavitt@valdosta.edu for more information.

Visit www.valdosta.edu/music/bios/leavitt and www.valdosta.edu/music/bios/indergaard and www.valdosta.edu/music/bios/lowe to read more about the musicians.

Upcoming Concerts:
• At 7:30 p.m. on Thursday, Aug. 30, VSU's Department of Music will host a faculty recital featuring Maila Springfield on piano and David Springfield on trombone/piano.
• At 7:30 p.m. on Tuesday, Sept. 4, VSU's Department of Music will host a faculty recital featuring Joren Cain on saxophone.
• At 10 a.m. on Friday, Sept. 14, the Valdosta Symphony Orchestra will conduct a youth concert.




Newsroom
Office of Communications Powell Hall West, Suite 1120
Mailing Address
1500 N. Patterson St.
Valdosta, GA 31698
General VSU Information
Office of Communications