Sylvester Named Assistant Director of Student Life for Greek Life
August 19, 2012
12-213
Sara Lynn McCall Graduate Assistant
Sylvester Named Assistant Director of Student Life for Greek Life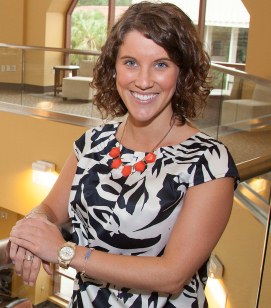 VALDOSTA -- Erin Sylvester has been named the new assistant director of Student Life for Greek Life at VSU.

Sylvester graduated from Florida State University with a B.A. in philosophy and a certificate in leadership studies. She then went on to earn a M.Ed. in higher education and student affairs from the University of South Carolina.

While at the University of South Carolina, Sylvester worked as a graduate assistant in the Office of Student Conduct where she primarily dealt with first and second time drug cases and with students of concern/students in crisis. She was also the primary adviser for the Student Judicial Board and responsible for coordinating all University Conduct Hearings.

Sylvester completed an internship in university housing at George Mason University outside of Washington DC, where she worked with summer conferences and all booking/billing for summer residents. For the past two years, she has advised an IFC fraternity and was able to assist them in receiving their chapter this past month. She says the most interesting experience of her career thus far was serving for a short time as a live-in house director for a different IFC fraternity.

As the new assistant director of Student Life for Greek Life at VSU, Sylvester advises 24 social Greek chapters and 194 student organizations. She is responsible for overseeing College Panhellenic Recruitment, IFC Rush, NPHC Intake and the daily chapter management and council activities for each Greek organization. Sylvester provides training and development for student organizations and assists with registration of events and programs on campus. She credits things running smoothly to the help of four graduate assistants.

"My first goal was to survive sorority recruitment, and I am happy to say that not only did we make it through, but we were thrilled with the results of being able to place 160 women into six deserving chapters," said Sylvester. "Now I am focused on revamping the risk management procedures of Greek organizations to ensure that all activities are both fun and safe."

Long-term she would like to help promote a greater sense of unity between the three Greek councils and a better understanding of Greek life for all unaffiliated members of campus.

"From a student organization perspective, I would like to increase the number of students that are currently engaged in campus activities and organizations as research shows that it has a strong positive impact on student success and retention," said Sylvester.

Contact Sylvester at eesylvester@valdosta.edu.


Newsroom
Office of Communications Powell Hall West, Suite 1120
Mailing Address
1500 N. Patterson St.
Valdosta, GA 31698
General VSU Information
Office of Communications