VSU's Schmidt to Participate in Georgia Pottery Invitational
August 28, 2012
12-223
Jessica Pope
Communications and Media Relations Coordinator
VSU's Schmidt to Participate in Georgia Pottery Invitational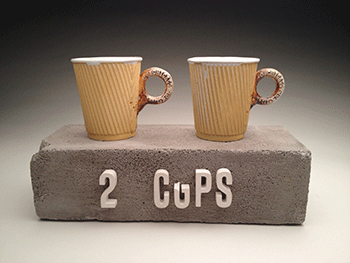 VALDOSTA -- Valdosta State University's Michael T. Schmidt will travel to historic Watkinsville on Friday, Aug. 31, to celebrate the official opening of the 10th annual Perspectives: Georgia Pottery Invitational. The gala reception will be held from 6 p.m. to 9 p.m. at the Oconee Cultural Arts Foundation Art Center and is open to the public.

Schmidt has 104 pieces in the exhibit. Two of them -- "Two Cups" and "Electric Blue Platter" -- will be featured in the OCAF Art Center's Main Gallery, along with a piece of earthenware/Majolica pottery by North Carolina/California artist Matthew Causey from his private collection. The remaining pieces will be in Rocket Hall, also known as the old Watkinsville Gym, and are for sale.

Also participating in the annual Georgia Pottery Invitational is Don Penny of Hahira. He taught art/ceramics from 1966 to 1990 at then-Valdosta State College.

"Don Penny, VSU professor emeritus art faculty member, and I have been traveling together for this event each year since 2002," said Schmidt, a professor of art in the university's College of the Arts, Department of Art.

The 10th annual Perspectives: Georgia Pottery Invitational will showcase the finest works created by 50 Georgia potters. Roughly 5,000 pieces of functional, one-of-a-kind pottery will be available for sale in the Oconee Cultural Arts Foundation Art Center's Rocket Hall. An additional 150 pieces, two by each artist and one from each of their private collections, will be on display in the Main Gallery.

"Being invited is a real honor," Schmidt said. "Georgia -- and the Southeast -- has a rich history of ceramics and functional pottery, also clay deposits and clay mining as well. To be a part of 50 Georgia exhibiting ceramics artists has proven to be a great networking tool for the individual artists, Valdosta State University, the state, and region. Few places in the country have a venue like this one."

In addition to the exhibit, the Georgia Pottery Invitational also features workshops, studio tours, and more. Schmidt has, in years past, been asked to present lectures and workshops.

"It really is a one-of-a-kind event that I am thrilled to be a part of," he shared.

Schmidt joined the faculty at VSU in 2001 as an assistant professor. Five years later, he was promoted to associate professor. In 2011, he became a full professor. He teaches all levels of undergraduate ceramics, glaze calculation, kiln building, three-dimensional design, and more. He earned a Bachelor of Fine Arts in art/graphic design from the University of Wisconsin-Whitewater in 1998.

"I discovered clay in a beginning ceramics course as an undergraduate graphic design major at the University of Wisconsin-Whitewater back in 1995," he said. "I was hooked almost immediately. Since then, ceramics and education have been a vital part in shaping the person that I am and the work that I create. I've worked in a variety of materials and media, but none captures my attention quite like clay. Such a temperamental material, it can be spontaneous and yet highly technical; it really demands your undivided attention, at least for me. And it has for the past 15-plus years."

Schmidt went on to earn a Master of Fine Arts in ceramics at Edinboro University of Pennsylvania in 2001. Over the years, he has contributed his artwork to help raise funds for local and other charitable organizations, won countless awards, presented at nearly two dozen workshops and lectures, and been featured in a variety of local and national publications. His ceramics can currently be seen in the university's Fine Arts Gallery through Sept. 7. His work will also be featured in September's Mugs for Jugs Invitational Ceramics Exhibition at MudFire in Decatur and October's DeLuce Clay National Juried Ceramics Exhibition at the Olive DeLuce Fine Arts Gallery at Northwest Missouri State University in Maryville, Mo.

The 10th annual Perspectives: Georgia Pottery Invitational will run through Sept. 19, with the exhibit open from 10 a.m. to 5 p.m. daily. Except for the gala reception on Friday, admission and parking are free of charge.

The OCAF Art Center is located at 34 School St. in Watkinsville, just off Highway 441 South, nine miles south of Athens.

Contact Michael T. Schmidt at (229) 249-4913 or mschmidt@valdosta.edu to learn more.

On the Web:
www.michaelschmidt.com
www.facebook.com/michaeltschmidtceramics
www.valdosta.edu/art
www.ocaf.com
www.mudfire.com

Visit http://www.flickr.com/photos/valdostastate/sets/72157631305047480/ to view more photos.
Newsroom
Office of Communications Powell Hall West, Suite 1120
Mailing Address
1500 N. Patterson St.
Valdosta, GA 31698
General VSU Information
Office of Communications