Gardner Rogers: Faculty Excellence in Teaching
August 19, 2012
12-215
Sara Lynn McCall Graduate Assistant
Gardner Rogers: Faculty Excellence in Teaching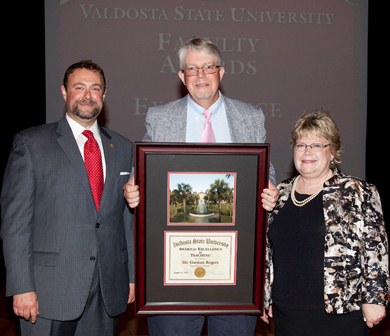 VALDOSTA -- The 2012 Faculty Excellence in Teaching Award was presented to Gardner Rogers of the Department of English who started teaching at VSU in the fall of 2007.

"The award meant the world to me," said Rogers. "I'm thrilled to receive it because teaching means so much to me, honored because there are so many wonderful teachers here, and humbled because I know I'm only as good as my next class."

Rogers attended Williams College for three years and then went on to the University of Kentucky. In 1993, he obtained a B.A. at the University of Kentucky followed by a M.A. in English in 1996. He then went to the University of Illinois for additional graduate work in English.

Staring his sixth year at VSU, Rogers has played a pivotal role in helping to pilot a new online hybrid format for the English Department World Literature courses. He has also used his talent to help colleagues and students in the Art Department with writing and research skills.

"I've loved VSU," said Rogers. "It's a very friendly campus. Its students are very responsive. The English department faculty has been remarkably supportive and accepting."

Although there is not much time during the academic year outside the classroom, Rogers says he plays a lot of golf in the summer, poorly but passionately he adds. He also enjoys reading books about higher education.

This year's Faculty Excellence Awards recipients were recommended by a faculty committee representing all the colleges and divisions at VSU. These recipients were chosen from a field of candidates who had already received top honors in their respective colleges and divisions.

Contact Rogers at gjrogers@valdosta.edu.


Newsroom
Office of Communications Powell Hall West, Suite 1120
Mailing Address
1500 N. Patterson St.
Valdosta, GA 31698
General VSU Information
Office of Communications