From The VDT to VSU: Paul Leavy Named New University Photographer
August 19, 2012
12-212
Jessica Pope
Communications and Media Relations Coordinator
From The VDT to VSU: Paul Leavy Named New University Photographer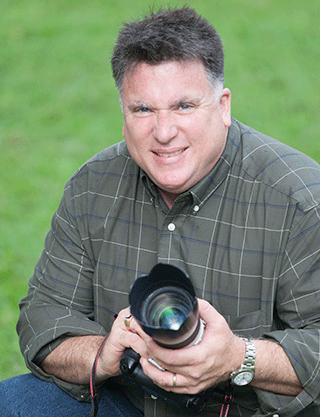 VALDOSTA -- Paul E. Leavy's photography career began in 1982 when he worked for Flash Professional Photography in Gainesville, Fla. It was a studio job, and he specialized in group, candid, and portrait photography.

After graduating from the University of Florida in 1985, with a Bachelor of Science in journalism, with a photojournalism specialty, and a minor in visual arts, Leavy joined the staff of The Valdosta Daily Times. He remained with the daily newspaper until Aug. 1, when he accepted a position as university photographer with Valdosta State University's Creative Design Services.

"Overall, it has been great," said Leavy, when asked about his first two weeks on the job. "The people in the VSU family are awesome, everybody has been friendly, and I am excited to use my talents to show how great VSU is to the rest of the community. Between all the HR [Human Resources] paperwork, settling in to a new office space and a new workflow, the past two weeks have been a blur … every day is something new."

Leavy is no stranger to the university. Working for The Valdosta Daily Times, he was assigned on numerous occasions to photograph special events and guests, as well as faculty, staff, and students, on campus. He has witnessed new presidents coming and old presidents going, students moving on and off campus, enrollment surges and the development of additional degree programs, athletic and academic success, state-of-the art buildings going up and outdated ones coming down.

In many ways, Leavy has been just as much a part of the university's history as those who call it their home away from home year-round.

"While I am not a stranger to the events, people, and places at VSU, now that I am part of the 'family,' I have a somewhat different feeling when photographing people on campus," he said. "Plus, having spent more time on campus throughout the years than most students, I feel relaxed on campus, and more so every day. There is still a lot to learn and people to meet, but I don't feel lost. That is for sure."

Leavy has won dozens of photography awards from the Georgia Associated Press and the Georgia Press Association for news, sports, and feature photograph. He won the coveted Photo of the Year from the Georgia Associated Press in 1999. This past year, he received two second-place awards from the Georgia Associated Press, one for picture story and the other for photo illustration.

Leavy and wife Amanda have been married for 12 years -- 13 years in February. She is the graduation services coordinator at Wiregrass Georgia Technical College. They have two children, son Grayson, 7, and daughter Wymberley, 10.

When not working, Leavy enjoys outdoor sports with his son, astronomy, and spending time with his family. He also teaches digital photography courses through Wiregrass Georgia Tech's Continuing Education program.

How VSU Departments May Request Photography Services:
The university photographer is available to photograph university events and individuals for print and online publications, marketing initiatives, and publicity. Priority will always be given to events and photos for which there is a broad external marketing purpose. All photo requests must be received a minimum of two weeks prior to the event for scheduling purposes. If a photography request cannot be accommodated, Creative Design Services can recommend a freelance photographer, or a digital camera can be checked out from Odum Library's Media Services. For more information, contact Paul E. Leavy at (229) 245-3891 or peleavy@valdosta.edu or Jeff Grant, director of Creative Design Services, at (229) 245-3852 or jgrant@valdosta.edu.
Newsroom
Office of Communications Powell Hall West, Suite 1120
Mailing Address
1500 N. Patterson St.
Valdosta, GA 31698
General VSU Information
Office of Communications