August 21, 2012
12-216
Jessica Pope
Communications and Media Relations Coordinator
Nephina Communicates Through the Music at VSU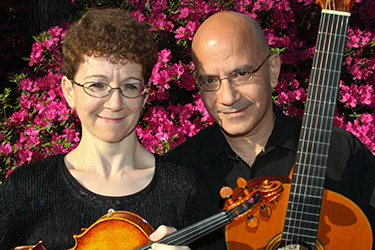 VALDOSTA -- Featuring Nina Lutz on violin and Nephtali Santiago on guitar, Nephina will perform at Valdosta State University at 3 p.m. on Sunday, Aug. 26. The concert is free of charge and open to the public.

"We've been playing together as a duo for 15 years," said Santiago, an instructor in the university's Department of Music. "We love the audience reaction to each of our performances. That is what's most rewarding -- to be able to communicate through our music."

Lutz serves as chairwoman of the Department of Music's string area. She has been concertmaster of the Valdosta Symphony Orchestra and first violinist of Valdosta State's Faculty String Quartet since 1992.

Nephina will kick off Sunday's concert with Jürg Kindle's "Quintessence." Santiago noted that the title of the piece is drawn from the use of the meter of "5," especially in the first movement. It was composed for violin and guitar.

"The composer of this piece has a rock and heavy metal background, and one can definitely hear this influence in this work -- very rhythmic and full of asymmetrical rhythmic patterns," he said. "The middle movement is a very beautiful and evocative piece in the style of milonga, a South American dance style."

The performance will continue with Spanish composer Pablo Sarasate's "Romanza Andaluza," which was originally composed for violin and piano. Santiago described the song as a romantic piece. This will be followed by Mauro Castelnuovo-Tedesco's "Sonatina for Violin and Guitar."

"Tedesco fled from Mussolini's rule in Italy, coming to the United States," Santiago said, "and established himself as a prolific composer of music. He also became a most sought after teacher. He most famous student was John Williams," who went on to compose some of the most recognizable scores in the history of film, including "Star Wars," "Jaws," "Indiana Jones," "E.T.," and "Jurassic Park."

Nephina will conclude the concert with two melodies from Ennio Morricone's "Cinema Paradiso," which was arranged for guitar and violin.

Santiago described Morricone as "the great Italian conductor and composer who was given an honorary Oscar award for his contribution to the art of film music."

"I've arranged the main theme and the love theme from the great movie 'Cinema Paradiso,'" he added. "It's such a nostalgic melody that we fight to keep our eyes dry as we play it."

Sunday's concert will be held in Whitehead Auditorium, on the first floor of the university's Fine Arts Building, which is located at the intersection of Brookwood Drive and Oak Street.

Contact Nephtali Santiago at nsantiag@valdosta.edu for more information.

Visit www.valdosta.edu/music/bios/lutz and www.valdosta.edu/music/bios/santiago to read more about the musicians.


Upcoming Concerts:
• At 7:30 p.m. on Monday, Aug. 27, VSU's Department of Music will host a faculty recital featuring Tod Leavitt on contrabass.
• At 7:30 p.m. on Thursday, Aug. 30, VSU's Department of Music will host a faculty recital featuring Mail Springfield on piano and David Springfield on trombone/piano.
• At 7:30 p.m. on Tuesday, Sept. 4, VSU's Department of Music will host a faculty recital featuring Joren Cain on saxophone.
General VSU Information
Office of Communications
Campus Address
Office of Communications Powell Hall West, Suite 1120
Mailing Address
1500 N. Patterson St.
Valdosta, GA 31698