VSU's Cain Enjoys Helping Students, Making Music with Friends
August 30, 2012
12-227
Jessica Pope
Communications and Media Relations Coordinator
VSU's Cain Enjoys Helping Students, Making Music with Friends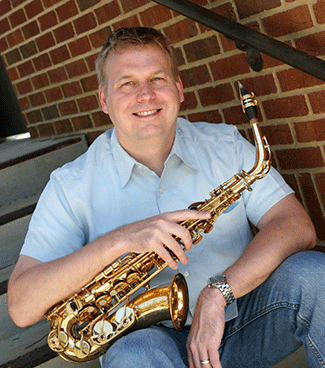 VALDOSTA -- Dr. Joren Cain has played the saxophone since he was 11 years old. He started in the sixth grade band, initially having a difficult time choosing between the trombone and the saxophone.

"At the time, I was fascinated with the Saturday Night Live band," said the Valdosta State University associate professor of music, "specifically the saxophonist, Lenny Pickett, and the extremely high notes that squealed from his horn every week. Fortuitously, I did not have the ability to buzz my lips, so brass instruments were not an option for me. I joined the band as a saxophonist, but it was many years before I was able to play those high notes that had captivated me years earlier."

The university's Department of Music will host a faculty recital featuring Cain on the soprano saxophone at 7:30 p.m. on Tuesday, Sept. 4. The event is free of charge and open to the public.

Cain will perform seven compositions, all of them classical works, "but they offer an extremely wide range of styles and sounds," he said. Several of the pieces are for the saxophone and piano, and on those, pianist Maila Springfield, who teaches accompanying piano to majors at VSU, will join him. Jeff Gallant, a reference librarian in charge of electronic resources and technology at Odum Library and a "skilled and accomplished" saxophonist, will join him on one of the works as well.

The performance lineup includes "Streetlegal" by Roshanne Etezady, "Black Anemones" by Joseph Schwantner, "Tile Work" by Tom Johnson, "Ku Ku" by Barry Cockcroft, "Duo Concertante" by Jean Baptiste Singelée, "Accompanied Recitative" by Milton Babbitt, and "Lessons of the Sky" by Rodney Rogers.

"Creating music with fantastic musicians is the reason we spend hours and hours in the practice room," he said. "When we get on stage to perform, it's a chance to just have fun, make music, and hope that the audience enjoys it half as much as we do."

Cain joined the university faculty nearly seven years ago. He teaches private lessons to saxophone majors and directs the New Jazz Ensemble, the student saxophone quartet, and one of the university's student jazz combos. He also teaches the first year of jazz improvisation, for those students who are interested in exploring jazz performance.

"What I enjoy most about teaching is opening new doors for my students," he said. "When we take those first steps towards understanding and mastering any style of music, it can seem like a daunting task. I really value helping students find their way, guiding them towards the resources and practice habits necessary to understand and subsequently find a deeper enjoyment of music. When I see the excitement of a student who has learned a new concept or skill, and they feel compelled to practice and explore it, that keeps me motivated as a teacher."

Cain plays the entire family of saxophones. He noted that he has modest skills on the clarinet and flute.

Tuesday's performance will be held in Whitehead Auditorium, on the first floor of the Fine Arts Building, which is located at the intersection of Brookwood Drive and Oak Street.

Contact Joren Cain at (229) 333-5806 or jocain@valdosta.edu for more information.

Visit www.valdosta.edu/music/bios/cain and www.valdosta.edu/music/bios/maila to read more about the musicians.

Upcoming Concerts:
• At 10 a.m. on Friday, Sept. 14, the Valdosta Symphony Orchestra will conduct a youth concert.
• At 8 p.m. on Saturday, Sept. 15, the Valdosta Symphony Orchestra will officially kick off its 2012-2013 season.
• At 7:30 p.m. on Thursday, Sept. 20, the VSU Department of Music will host a student recital featuring Curtis Thornton on tuba and Brian Summerlin on trumpet.
Newsroom
Office of Communications Powell Hall West, Suite 1120
Mailing Address
1500 N. Patterson St.
Valdosta, GA 31698
General VSU Information
Office of Communications