Honors College Holds Convocation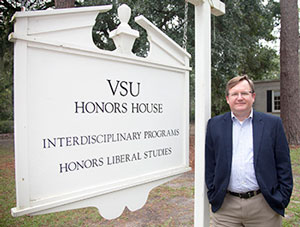 VALDOSTA -- Valdosta State University's Honors College held its second convocation since transitioning from a program to a college Tuesday, Aug. 21.

Keynote speaker for the event was Brett Brewer. Brewer helped establish the Honors Student Association at Valdosta State in 1986 and served as the association's first president. He is now a part of the Honors Chapter of the Alumni Association at VSU.

Brewer's address focused on the benefits of participating in the Honors College and ways to be an Honors student for life.

Brewer is a 1987 graduate, with a Bachelor of Fine Arts in Communication Arts and a minor in philosophy. He also holds a master's degree in English from Northwestern University.

Brewer is a global account director for ExactTarget, a provider of on-demand software for email and one-to-one digital communication. He works with consultants to help clients build digital marketing strategies and design and deploy email programs. Prior to joining ExactTarget, Brewer worked with other companies developing digital learning and communication programs for clients such as Ernst & Young, Baxter Healthcare and Harvard Business School. His work for Harvard won several NewMedia Magazine Invision awards, including the Best Business Simulation Award.

When asked how the Honors Program prepared him for his career, Brewer said, "The Honors Program helped prepare me by instilling sense of intellectual curiosity, learning agility and a creative approach to problem solving. These traits allowed me to enter the world of Internet and digital marketing in an age where there were few 'experts in the field,' and quickly grow my career in a way that has been both professionally and personally rewarding."

"We owe the connection with Mr. Brewer to Dr. Jim Hill, who established the Honors Program at Valdosta State more than 35 years ago," said Dr. Ofelia Nikolova, the director of the Honors College.

Nikolova stated that the convocation served as the kickoff to the college's second year at VSU.

"The Honors College has made great strides since it began in Fall 2011," Nikolova said.

According to Nikolova, the biggest change since transitioning from a program to a college has been the change in the curriculum.

"Prior to becoming a college, students who participated in the program could only take Honors core classes. Now, Honors classes will be spread throughout the four years."

Honors students also have a global experience requirement, which can be fulfilled in a variety of ways, such as taking nine credit hours of a foreign language, participation in a study abroad program or other approved activities. Furthermore, they must prepare a thesis prior to completing their Honors path.

"VSU is committed to building a strong Honors College with students representing majors in every college in the university," said Dr. Karla Hull, acting vice president of Academic Affairs.

This year the college was able to award 52 new scholarships resulting in a 50 percent increase in the incoming class enrollment, with 146 students enrolled so far. Of these students, 112 had SAT scores of 1200 or above.

General VSU Information
Office of Communications
Campus Address
Office of Communications Powell Hall West, Suite 1120
Mailing Address
1500 N. Patterson St.
Valdosta, GA 31698