August 19, 2012
12-210
Jessica Pope
Communications and Media Relations Coordinator
Flux Saxophone Quartet Performs at VSU Tuesday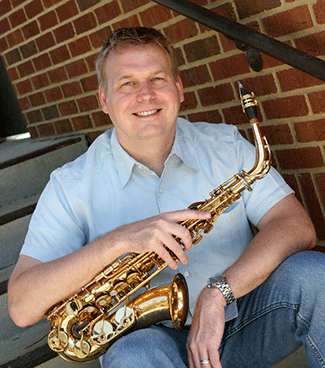 VALDOSTA -- Valdosta State University's Department of Music will kick off the fall concert season with a performance by the Flux Saxophone Quartet at 7:30 p.m. on Tuesday, Aug. 21, in Whitehead Auditorium. The concert is free of charge and open to the public.

The Flux Saxophone Quartet was formed over the summer in an effort to combine the talents of saxophone professors in the region. Members are Dr. Jan Berry Baker, an assistant professor at Georgia State University, on soprano saxophone; Dr. Joren Cain, an associate professor at VSU, on alto saxophone; Dr. Michael Bovenzi, an assistant professor at the University of North Florida, on tenor saxophone; and Gary Paulo, an artist affiliate at Emory University, on baritone saxophone.

"Tuesday's recital will mark the debut performance of this quartet," Cain said.

The Flux Saxophone Quartet will perform Michael Torke's "July," Wolfram Wagner's "Saxophone Quartet No. 2," Florent Schmitt's "Saxophone Quartet," Roshanne Etezady's "Keen," and Astor Piazzolla's "Histoire du Tango."

"The music represents a wide range of musical styles, and the program includes pieces by American, German, French, and Argentinian composers," Cain said. "The saxophone quartet has a rich repertoire, and the program should include something for everyone, from traditional quartet music to modern sounds to tango."

Tuesday's performance, Cain added, is the four musicians' chance to share their love of music with an audience.

"Creating music with fantastic musicians is the reason we spend hours and hours in the practice room," he said. "When we get on stage to perform, it's a chance to just have fun, make music, and hope that the audience enjoys it half as much as we do."

Whitehead Auditorium is located on the first floor of the Fine Arts Building, which is located at the intersection of Brookwood Drive and Oak Street.

Contact Dr. Joren Cain at (229) 333-5806 or jocain@valdosta.edu for more information.

On the Web:
www.valdosta.edu/music/

Upcoming Concerts:
• At 3 p.m. on Sunday, Aug. 26, Nephina, featuring Nina Lutz on violin and Nephtali Santiago on guitar, will perform.
• At 7:30 p.m. on Monday, Aug. 27, VSU's Department of Music will host a faculty recital featuring Tod Leavitt on contrabass.
• At 7:30 p.m. on Thursday, Aug. 30, VSU's Department of Music will host a faculty recital featuring Mail Springfield on piano and David Springfield on trombone/piano.
General VSU Information
Office of Communications
Campus Address
Office of Communications Powell Hall West, Suite 1120
Mailing Address
1500 N. Patterson St.
Valdosta, GA 31698