Meredith Lancaster Named Employee of the Semester
July 16, 2012
12-181
Sara Lynn McCall Graduate Assistant
Meredith Lancaster Named Employee of the Semester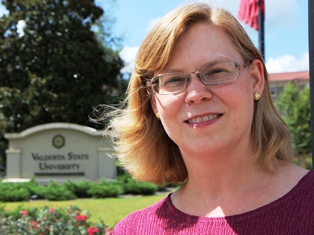 VALDOSTA -- Environmental Safety Coordinator Meredith Lancaster was named Employee of the Semester for the 2012 spring semester. The Environmental and Occupational Safety Department works to promote environmental and occupational safety, fire safety, industrial hygiene, and hazardous materials management.

"Receiving the Employee of the Semester award was an honor," said Lancaster. "I'm very grateful for the recognition of my work and my service to the university."

Lancaster has a bachelor's degree in biology from Vanderbilt University and worked for an environmental service company for 10 years before coming to VSU in October 2004. Since beginning her work at VSU, she has had many opportunities for additional training, including radiation safety, environmental management systems, and hazardous materials shipping.

As the environmental safety coordinator, Lancaster says she tries to make sure, with lots of help from the Environmental and Occupational Safety Department and other departments on campus, that VSU remains in compliance with applicable environmental regulations. There are approximately 15 different U.S. Environmental Protection Agency programs that VSU is subject to as a university, and must remain in compliance. In addition, she serves as the biosafety officer and the radiation safety officer for the campus.

When Lancaster is not at work, she enjoys spending time with her family and friends and enjoys reading.

The Employee of the Semester Award recognizes outstanding performance by classified staff members who exemplify the values of the university. For more information about the award, visit http://www.valdosta.edu/cosa/COSAEmployeeoftheSemester.shtml or email cosa@valdosta.edu.



Newsroom
Office of Communications Powell Hall West, Suite 1120
Mailing Address
1500 N. Patterson St.
Valdosta, GA 31698
General VSU Information
Office of Communications