Gerhardt Named Director of Procurement
July 16, 2012
12-182
Jessica Pope
Communications and Media Relations Coordinator
Gerhardt Named Director of Procurement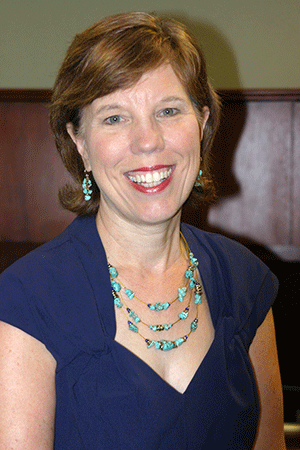 VALDOSTA -- Joining a behind-the-scenes team that ensures the campus operates as smoothly as possible, Theresa M. "Terri" Gerhardt was recently named Valdosta State University's new director of procurement.

It is Gerhardt's job to ensure that goods and services purchased for the university are appropriate, meet the needs of the purchaser, and are acquired at the lowest possible price. She also oversees risk management functions, working with a team of seasoned professionals in the Office of Business Services.

"This is a great department," said Gerhardt, who started work on May 1 and has, to date, been charmed by the friendliness of the campus community. "I am part of a great team. This is not a one-man job."

Born and raised in Pittsburg, Pa., Gerhardt worked for the Fayette County Board of Education Fayetteville from 1990 until she accepted a position with VSU. She started her career in education as an attendance clerk, working her way up to purchasing agent and risk manager for the school system. She earned a Bachelor of Business Administration degree in managerial sciences in May of 2006 from Georgia State University. She is a certified public procurement officer, a certified public procurement buyer, as well as a master instructor for the National Institute of Governmental Procurement.

Gerhardt has been married for 33 years to Dale Gerhardt, a lead mechanic for Delta. They have three grown children, two girls and a boy. Their oldest, Julie, is a musician who plays the French horn and earned both a performance diploma and bachelor's degree in instrumental music from Indiana University and a master's degree from the University of New Hampshire. Their middle child, Stacy, is a structural engineer for Wiley|Wilson who holds degrees from the Georgia Institute of Technology and LaGrange College. Their youngest, Ben, graduated from Augusta State University with a bachelor's degree in mathematics in May and hopes to teach at the high school level.

In her spare time, Gerhardt enjoys quilting and walking her dog, a part Australian shepherd. She also likes to travel.

Contact Terri Gerhardt at (229) 333-5701 or tmgerhardt@valdosta.edu for more information.


A Few Fun Facts About Terri Gerhardt
• Her favorite color is green.
• The last movie she watched was "Bridesmaids."
• Her favorite book is the "Outlander" series by Diana Gabaldon. The last book she read was "Code to Zero" by Ken Follet.
• She likes veggies on her pizza and any flavor of ice cream.
• She plans to someday hike through Scotland and Ireland.
• She and her husband attended college together as non-traditional students. They started in 2000 with two children in college and one in high school.
Newsroom
Office of Communications Powell Hall West, Suite 1120
Mailing Address
1500 N. Patterson St.
Valdosta, GA 31698
General VSU Information
Office of Communications