SIFE Team Places in Top Four at National Exposition
SIFE Team Places in Top Four at National Exposition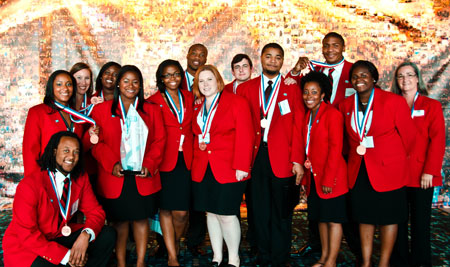 VALDOSTA -- Valdosta State University's 2012 Students in Free Enterprise (SIFE) team placed fourth among 494 SIFE teams nationwide at the SIFE National Exposition last month.

The VSU SIFE team was recognized in the top four teams alongside students from Brigham Young University-Hawaii, Flagler College and the national champion,Belmont University. The exposition was held from May 22 to May 24 in Kansas City, Mo. and included two days of intense competition at the Kansas City Convention Center. Outreach projects were presented and judged by top business executives.

Dr. Wayne Plumly, dean of the Langdale College of Business Administration, said that the students spent months preparing for the event.

"All the volunteer hours that they managed despite full academic loads and working part-time have benefited the community in ways that we may not know for years to come," said Plumly. "SIFE advisors Hilary Gibbs, Diane Guess and Jeff Shipley have worked tirelessly to give our SIFE students every opportunity to help others and themselves. "

Valdosta's SIFE program is one of nearly 500 programs in the United States. Participating students use business concepts to develop community outreach projects that improve the standard of living for people in need. The culmination of the SIFE program is an annual series of competitions that provide a forum for teams to present the results of their projects, and to be evaluated by business leaders who serve as judges. Teams compete first at the regional and national levels, then at the international level when the national champion teams from each country meet at the SIFE World Cup.

For more information, contact Hilary Gibbs at hhgibbs@valdosta.edu.
Newsroom
Office of Communications Powell Hall West, Suite 1120
Mailing Address
1500 N. Patterson St.
Valdosta, GA 31698
General VSU Information
Office of Communications